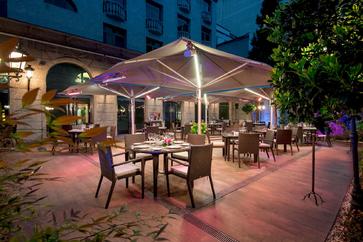 Madrid is full of elegant boulevards, old world charm and a rich culture. Deciding where to stay in Spain's capital city can be overwhelming because there are hundreds of Madrid hotels to choose from.
We've put together a list of the top five Madrid hotels based on location, service and comfort. Each of these Madrid hotels have parking available for your DriveNow hire car from Madrid Airport.
VP Jardin de Recoletos
VP Jardin de Recoletos is so close to famous sites like the National Archaeological Museum, the National Library and the Retiro Park. It's in Madrid's elegant Salamanca district, which is ideal for people who love shopping, food and culture. But if the fantastic location isn't enough to sell you on this hotel, then perhaps the spacious rooms with a kitchenette and terrace will do the job.
Vinnci the Mint
Vinnci the Mint is the type of hotel that is so fun and fashionable. You wouldn't mind spending your entire holiday indoors! The unique and contemporary hotel on Gran Via has an amazing roof terrace where the guests like to chill out. Sip cocktails and wines while admiring Madrid's stunning skyline.
ApartoSuites Jardines de Sabatini
Enjoy all the luxuries that come with hotel service and add the convenience of an apartment. Choose between a studio or suite featuring modern and spacious design. The hotel is right in the heart of Madrid, which makes an ideal base for a weekend getaway in the city. One of the unique features of this hotel is the exclusive car museum, which gives you a "travel back in time" experience.
URSO Hotel and Spa
Rejuvenate, unwind and enjoy the special treatment at this 5-star boutique hotel. URSO Hotel and Spa is a must visit for anyone who loves luxury and sophistication. This former palace features charming, old-fashioned architecture yet offers all the modern comforts. Indulge in some seriously relaxing spa treatments with the hotel's professional spa therapists.
Catalonia Las Cortes
Madrid is home to the beautiful Catalonia Las Cortes, which is in the popular Las Letras district. So it's a great base for anyone who loves architecture, parks and is looking for the best tapas in town! The beautiful 18th-century building rooms feature antique furnishings, frescoes on the ceiling… you'll feel like you're walking into an art museum!
BRIANNA PIAZZA