WE decided to try out somewhere close to Melbourne, our hometown, but somewhere where it felt like we were on holiday.
So after a bit of research we chose Nagambie. This small town is only 90 minutes north of Melbourne, a great little place with all the services you need and a great little Victorian road trip. It has a great pub and an incredibly good bakery. In fact, people head from Melbourne to Nagambie for one reason – just to go to this bakery! There is nothing better than a loaf of extra-fresh bread.
We stayed at Nagambie Lakes Leisure Park. It's an accommodation venue out of this world. It's also funny because the park is almost bigger than the town. And to be perfectly honest, you needn't leave the park either; aside from going to the bakery, that is.
This park has absolutely everything. It's all new, luxurious and surrounded 360 degrees by water with the river on one side and the lake on the other. The park also has its own boat ramp, swimming pool, tennis courts, basketball, two playgrounds, jumping pillow … the list is endless.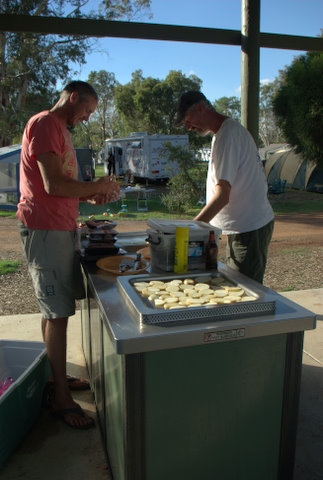 Just around the corner from Nagambie Lakes Leisure Park is beautiful Chateau Tahbilk winery and what a day we had there. Did you know that the cellar they use is more than 100 years old, still original and still working to capacity? Damn fine wine is produced and we bought about three dozen bottles. It's actually worth pointing out that, at the moment, all wine is really cheap so you can guarantee yourself some awesome cellar door specials.
There isn't much more to do around Nagambie, but relax, there doesn't need to be! So if it's relaxation you want, Nagambie is the place for you.

PETER "SPIDA" EVERITT
The Great Australian Doorstep screens on Channel 7TWO in Australia