CAPE York is absolutely totally out of this world. No word can sum it up, no matter how much you try to describe it. Quite simply, you just don't know how great it is until you experience it for yourself.
I bid farewell to Sheree and the kids (they are having a week in Cairns) while myself and the film crew head into the unknown territory of Cape York Peninsula. Firstly, there's a few very important things to remember. If you are travelling along, as in only one vehicle, make sure you stick to the Cape York Development Road at all times! If you are lucky enough to have a support vehicle or vehicles with you, then venture off on to the Telegraph Track.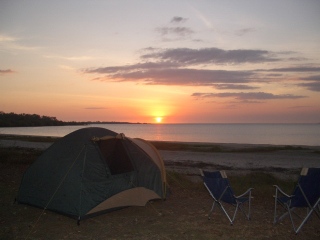 We had only one vehicle, but we still saw so much and had the best time ever. Once you get past Laura you will feel like you are in a different country. It isn't that far distance-wise, but time-wise it can be. It took us 8 1/2 hours to travel 291km from the turn-off to Weipa! Too funny! But it was all worth it and was a great opportunity to test out all your 4WDriving skills on these roads in particular – so much to learn along the way, but funnily enough we never felt in danger or at risk. Mobile phones will work in most parts, definitely in all the towns, but be sure to take a satellite phone with you for back up.
First stop was Weipa which boasts the most amazing sunsets. We stayed at a beachfront caravan park – what more could you want?! Take in the Totem poles, a history lesson you will never learn or experience anywhere else in the world. Weipa has all the services you will need. And remember to stock up on water at every place you can. After that, we headed straight across to the other coast to Portland Roads and a little private house called Portland House. It's all run from "eco" things – eco this, eco that. It's a great little spot and for only $75 per person it is great value. If you are looking for a romantic getaway then this is for you.
Then it was off to Seisia, a great little town a few kms short of the Tip of Australia. Once again, beachfront camp sites and just stunning. Seisia and Bamaga have a lot of services. Don't forget to take the Champers when you finally reach the very tip of Australia! An enormous accomplishment by any standard!
PETER "SPIDA" EVERITT
The Great Australian Doorstep is coming to 7TWO. Visit www.thegreataustraliandoorstep.com.au for more information