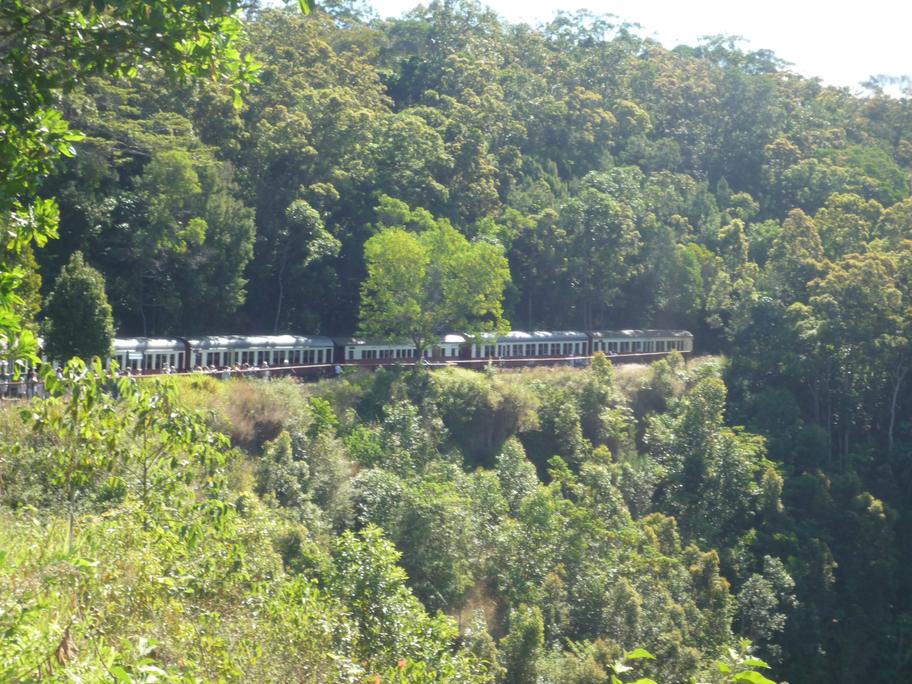 ]BIDDING farewell to Ayr, we headed off for a leisurely four hour drive north to Cairns and I couldn't wait! The Great Barrier Reef, the shopping, the Kuranda Railway, the Skyrail … so much to do.
We stayed at the Coconut Holiday Resort and this was a five star park in the truest sense. This is an ideal place to set up camp after a long drive in Queensland in your campervan or caravan. With everything from unpowered grassy sites right through to three bedroom condos, two enormous pool areas, the best children's play activities you could think of and it even has its own restaurant where you can sink your teeth into the best fish and chips going around. Just ask Sheree, she had them almost every night! Must be a Kiwi thing.
The first day we spent out on the reef on the Quicksilver Reef Escape. Unfortunately the day wasn't such a good one, so we could only go as far as Green Island as the visibility out on the reef wasn't good, but Green Island certainly didn't disappoint. We went on the glass bottom boats, the submarine and took a walk through the stunning rainforest, before finishing up with some snorkeling. A great day was had by all, and actually was all the better for none of us having any unwanted sunburn!
The next day we took in the Skyrail up the mountains and the Kuranda Railway back down. You really have to spend an entire full day doing this as there are so many great photo opportunities and some fantastic shopping up at the Kuranda Markets. You will never get a view anywhere else like you do from the Skyrail. Boston, our youngest, really loved the Kuranda Railway, he thought it was James and Percy towing us.
On our third day we took a drive up the gorgeous coast road up to Port Douglas. 'Why don't we live here', I keep asking myself. I am definitely heading back up there to live one day. Every day really is beautiful one day and perfect the next. And the one highlight for all our kids was Muddies Water Park on the waterfront boardwalk in Cairns itself. Definitely something Boston will never forget, and a bonus for me – its all free!
PETER "SPIDA" EVERITT