AT about a leisurely four hours after you pick up your rental car in Brisbane or on the Gold Coast, Goondiwindi is easy to get to with great roads all the way.
It's a great little town and well-known for being the home of famous racehorse, Gunsynd. The legendary galloper still adorns the street murals and even has his very own statue and museum at the town's Tourist Information Centre. Gunsynd's story is a beauty and you get a real feel for the town upon discovering it. A hard-working country town built on trust and loyalty.
Goondiwindi is home to some of Australia's biggest cotton fields and you just have to take the town tour (which departs from the Information Centre). You are taken around town, given all the lowdown on the history of Gunsynd and then head out to the cotton fields to see just how these farms work. It's awesome seeing all the massive machinery working – the kids loved it as they got to see how cotton is grown right through to it being ready to wear!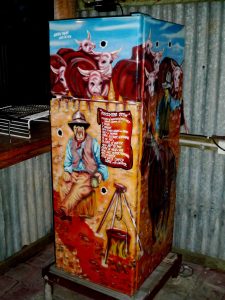 We stayed at the Gundy Star Tourist Park, which is a park with a big difference – they have their very own mineral-rich Artesian Spa! Great pool, great hospitality and it was topped off by a night in the park's campfire kitchen. You just can't beat sitting around a campfire talking about your day, while the kids play in the pool right next door. Just check out his bar fridge above!
The town bridge spans two states, starting in NSW and ending in Queensland. Quite impressive, hey? But it's actually only a few metres long and also is home to the first Queensland pub (as in its the first one you come to when you cross the border!) From across the bridge you can walk along the river walkway, with parks along the way for the kids and there's a great sense of getting back to nature.
The town museum is full of old relics from yesteryear including farm machinery, household appliances, clothing and toys. It's an afternoon to remember. Then it's back to the park for the campfire damper … they tell me it's the best in the land!

PETER "SPIDA" EVERITT
Visit www.greataustraliandoorstep.com.au