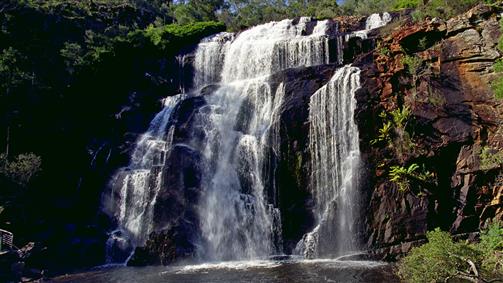 Australia is home to so many natural wonders, such as magnificent waterfalls. There are so many waterfalls in every state and territory, that you won't be able see them all in your lifetime. So we've narrowed it down to seven of the country's best waterfalls.
Millstream Falls, QLD
Millstream Falls comprises of two sets of waterfalls – Big Millstream Falls and Little Millstream Falls. They're located about 500 metres apart, with the largest waterfall known to be the widest single-drop waterfall in Australia. Water flows over the edge of an old basalt lava flow in one of the most beautiful parts of Far North Queensland.
Dip Falls, TAS
Hike down 152 steep steps to reach the bottom of these cubic-basalt formed falls. Although it's hidden in Tasmania's north west corner, and relatively few tourists make their way here, Dip Falls is one of the most impressive in the state – especially during the winter months after some decent rain, when water roars over the edge.
Russell Falls, TAS
This stunning multi-tiered waterfall is located in the central highlands, just downstream of the popular Horseshoe Falls. You pass enormous fern forests and some of the world's oldest trees to get to Russell Falls, yet it's still only a short walk from the carpark and it's wheelchair accessible.
Mackenzie Falls, VIC
Mackenzie Falls is one of Victoria's most iconic waterfalls, flowing all year round. Standing 30 metres tall, it's only a half-hour walk to get to the falls (one way). Once you're there, relax and enjoy the view and the serenity.
Mitchell Falls, WA
This multi-tiered waterfall is one of the Kimberley region's major tourist attractions. Mitchell Falls is set deep in the rocky wilderness, where visitors are greeted by water cascading over layers of rock into a deep pool. Gorgeous red cliffs surround the falls, making it a beautiful and unforgettable sight.
King George Falls, WA
Like Mitchell Falls, King George Falls is also located in the Kimberley region. The King George river plunges 50 metres over a sandstone cliff into tidal waters, which are surrounded by red rocky cliffs. Everyone who visits Western Australia must witness the extraordinary beauty of King George Falls.
Wollomombi Falls, NSW
The Wollomombi Falls is one of the highest falls in Australia, located in the Oxley Wild Rivers National Park. The spectacular single fall cascades over the mountain, dropping a staggering 220 metres into the valley below.
BRIANNA PIAZZA