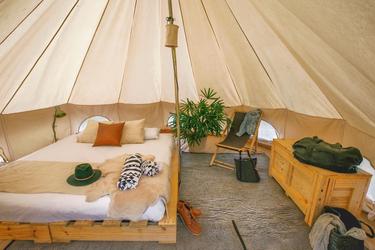 Tents in the heart of Kakadu
Set in beautifully shady grounds, Flash Camp @ Kakadu offers bespoke bell tent accommodation in the heart of Kakadu National Park, ideal for those looking for an effortless camping experience while exploring the UNESCO World Heritage Listed wilderness, so grab your wheels in Darwin and get set for the adventure in Australia's most famous outdoors!
Accommodation will include double and twin bell tents with spring-foam mattresses on pallet bases, quality bed linen, fresh towels, bamboo furniture, toiletries and Armadillo & Co rugs. Tents have power, lighting and a fan, though nights are usually mild throughout the "winter" season (18 – 20C).
Flash Camp tents can be configured especially for families, allowing two adjacent tents to be allocated for family groups and a communal Flash tent will be available for relaxing and enjoying complimentary tea and coffee. Flash Camp guests have access to communal toilet and shower facilities, barbeques, as well as a restaurant, bar and pools at the adjoining Cooinda Lodge. A pop-up up Food Truck will operate throughout the peak season offering quality, inexpensive takeaway food such as Barra & Chips.
Cooinda the ideal base
Cooinda is one of the most convenient bases for touring Kakadu, with Yellow Water Cruises and Spirit of Kakadu Adventure tours operating from Cooinda. Warradjan Cultural Centre – a showcase for Kakadu's Indigenous culture and heritage – is just five minutes drive from the camp ground, and major tourist sites like Nourlangie, Anbangbang, Twin Falls, Jim Jim and Gunlom all within an easy drive.
"Flash Camp is ideal for travellers who like the idea of camping but don't want to have to have to bring all the camping equipment with them, let alone put up the tent and then take it down," says Brett Skinner, Cooinda General Manager.
"It offers a harmonious balance of comfort and reconnection with nature, and is perfect for the season because there is rarely any rain and nights are mild. Last year Flash Camp proved very popular with families, couples and groups. We had people from all over the world opt for the Flash Camp over conventional accommodation once they saw how comfortable the tents were.
"It is really exciting to be able to offer a hassle-free, low-impact camping experience in the heart of one of Australia's most environmentally and culturally rich destinations."
Cooinda Camping Ground is located next to Yellow Water Billabong, 30 minutes from Jabiru and just over three hours' drive from Darwin.
'Flash Camp @ Kakadu' rates start at $140 per night.
(Also check out our Driving Holidays – Darwin to Timber Creek post)