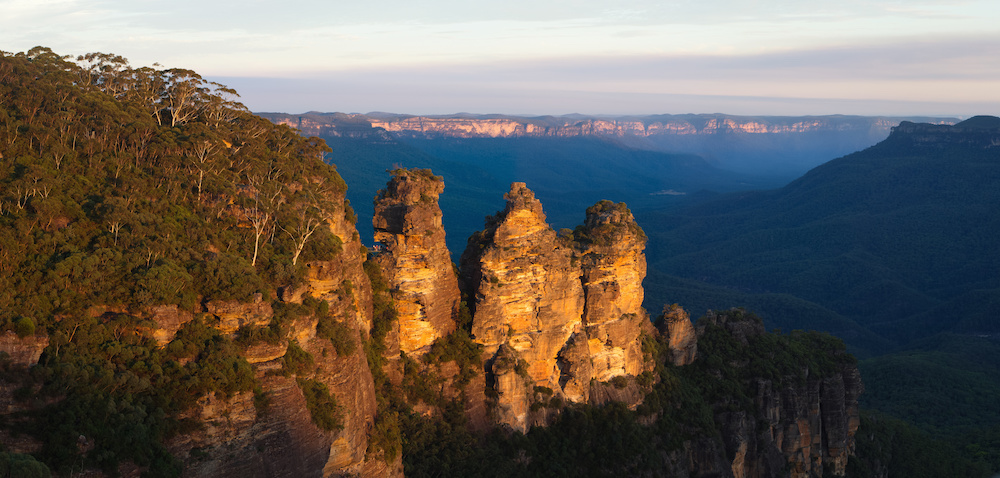 Nothing spells a romantic weekend away like an overnight stay at a B&B in the Blue Mountains. The World Heritage listed region lives up to its reputation as a major tourist attraction, with its gorgeous mountain views and nature walks.
Here are five romantic B&Bs in this beautiful part of New South Wales.
Silvermere Bed and Breakfast
Relax on this picture perfect country estate, which is restored from the 1920s. There are several unique accommodation experiences at Silvermere, but the standout for romantic couples is Chauffeur's Cottage. It's hidden in the gardens, with shops, restaurants and Wentworth Falls Lake only a short stroll away. In the evenings, watch the sunset from the veranda before the lights of Sydney light up in the distance.
Moments Mountain Retreat
This beautiful homestead is situated at the entrance to the Valley of the Waters and treats you to incredible views of the surrounding wilderness. Gaze at these amazing views right from your veranda, and if you choose to stroll just 50 metres down the road, you'll stumble upon many walking tracks. Moments Mountain Retreat's spa suites feature in-room double spas and an open gas fire.
Lakeside B&B
The Waterfront Suite at Wentworth Falls, which is situated in the heart of the Blue Mountains, is an absolute dream come true. Get cosy in your accommodation, which is located right on the edge of a stunning lake. If that's not enough, then perhaps the lush bushland surrounding you will be. This area is a bird watcher's paradise, with many nearby walking trails and the famous Three Sisters only a short drive away.
Katoomba Manor
This modern house, which was opened in 2013, is simply magnificent. The marble columned veranda and the surrounding mountain garden, complete with winding paths and garden walls, will take your breath away. It's a haven that will give you the chance to relax as time passes you by.
Edgelinks Country House
Edgelinks oozes warmth and country charm. Unwind in this perfect paradise, where you're surrounded by tranquil European gardens and mountain views. Inside your boutique luxury accommodation you'll find all the modern comforts you need, but it's Edgelinks' old world charm from a bygone era that will truly capture your heart.
BRIANNA PIAZZA