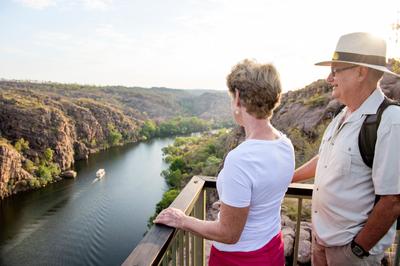 The beautiful, rugged, vast landscapes of Northern Australia earns its reputation as an incredible place to visit. Northern Australia has more than just a handful of scenic attractions. In fact, the possibilities of where you can go in Northern Australia are endless.
You'll find a bargain car hire deal when you rent a car from your nearest capital city with DriveNow. When you're all set with your wheels, head to one of these destinations.
See the beauty of Katherine Gorge (above)
Drive just under 250 km southeast of Darwin to this ancient sandstone country. There are 13 stunning gorges waiting to be explored on foot, by boat, canoe or even from the air. It's a world-famous park, known for its vast scenery, pristine waters, beautiful swimming holes and hiking trails. There's also plenty of Aboriginal rock art and wildlife to see as well. You could easily pass weeks exploring this amazing part of the Territory.
Explore the Great Barrier Reef
All along the coast of northern Queensland is the famous Great Barrier Reef. From the Far North all the way down to Bundaberg you can experience the clear waters, which are full of colourful coral and teaming with marine life. Go diving or snorkelling on a group boat tour out to the reef. You'll find tours to this exotic playground at any time of year.
Port Douglas: spot Minke whales
For just six weeks every year, Queensland can offer you a life-changing experience. It just so happens to be right in the middle of Australia's southern winter (June and July) that minke whales journey north. The inquisitive creatures are known to come close to boats and swimmers, so be sure to take up any opportunity to go snorkelling!
Journey to the World Heritage-listed Chillagoe Caves
Chillagoe is about a three hour drive west of Cairns. It was once a thriving mining town but today it's most famous for its limestone caves. There are hundreds of caves in the area, and you can enter with a guided tour. You'll learn about the fascinating history and admire the incredible stalactites and stalagmites. The caves have even revealed fossilised bones of crocodiles and giant kangaroos, which are now extinct.
Admire Ningaloo Reef from a sea kayak
Everybody knows about the eastern coast Great Barrier Reef. But far fewer people know about Ningaloo Reef, off the coast of Western Australia. The corals are just as fabulous and the marine life incredible with the extra opportunity to swim with whale sharks. Even better, this part of the country draws a lot less crowds. Get a local guide to take you from Exmouth to the reef in a sea kayak for a beautiful day on the water. You can snorkel and also learn about the different types of marine life that swim in these crystal clear waters.