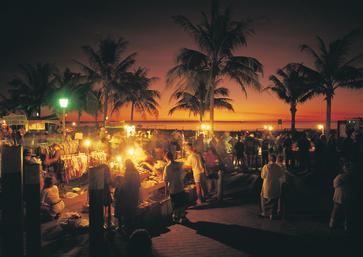 The dry season is the best time of year to explore the Northern Territory. From May to October, the weather becomes cooler and drier. This makes it easier to go off-road and explore all corners of the Northern Territory, instead of worrying about heavy rains and potential floods.
If you plan to explore the Northern Territory, then you just need to hire a campervan from Darwin Airport. With your set of wheels, follow our guide for the top things to do in the Top End during the dry season.
Berry Springs Nature Park
Drive 50 kms south east of Darwin city and you'll encounter the picturesque Berry Springs Nature Park. Have a picnic under a shady tree after cooling off in one of Berry Creek's beautiful swimming holes. The clear waters are teeming with aquatic life. There's also a fantastic walking track that takes you through forest and woodlands.
Where to stay: AAOK Lakes Resort and Caravan Park
Kakadu National Park
The World Heritage-listed Kakadu National Park is stunning during the dry season. This time of year gives you the opportunity to experience swimming holes that are usually cut off during the west season. One of the best swimming spots is Gunlom Falls, which is also known as Kakadu's natural infinity pool. Jim Jim Falls is another great spot, with a plunge pool to treat you at the end of a bushwalk.
Where to stay: Kakadu Lodge and Caravan Park
Field of Light Installation
As night falls in Uluru, the Field of Light Installation takes over. British artist Bruce Munro is famous for his immersive large-scale light-based installations and until December 2020, you can see his impressive work light up the desert. Blue, violet, ochre and white lights cover an area the size of more than seven football fields.
Where to stay: Ayers Rock Campground
Mindil Beach Sunset Market
From April to November you must experience Darwin's famous market. Expect to see street performers, craft stalls, a range of scrumptious Asian food stalls. The best part is the Mindil Beach Sunset Market is in the perfect location for a romantic sunset dinner on the beach. The market runs on Thursday and Sunday nights.
Where to stay: Hidden Valley Holiday Park, Darwin
Uluru Camel Cup
This is one great event you don't want to miss! Get ready for the iconic Camel Cup, which is thrilling just as much as it is hilarious! The first Camel Race was in 1970 as a bet between two mates. Today it has evolved into an annual race and it draws an excited crowd from beyond Alice Springs.
Where to stay: G'day Mate Tourist Park
BRIANNA PIAZZA