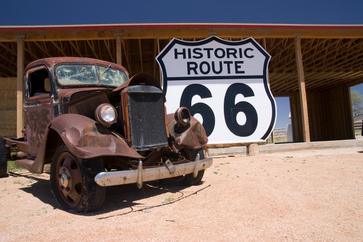 A Route 66 adventure is the ultimate road trip with friends or family. Route 66, which is also known as the 'Mother Road', spans nearly 4000 kilometres across eight states, from Chicago to California. Since earning its name 'Route 66' in 1926, it has inspired songs, films, TV shows and books. But even though it was officially decommissioned in 1985, people from all walks of life still come together to travel one of the world's most famous highways.
Just hire a campervan from Los Angeles Airport so your adventure can begin. As you drive this iconic highway, check out some of these roadside attractions, while staying in vintage motels and seeking out American road food.
Santa Monica
You can either begin or end your Route 66 adventure in Santa Monica. Either way, you'll have plenty of fun exploring where the west coast meets the Pacific Ocean. Drive along the Santa Monica Boulevard and stretch your legs for a walk along the pier. A day at the buzzing Venice Beach might be just what you need before beginning (or as you've finished) your Route 66 drive!
Grand Canyon Railway and Hotel
The Grand Canyon Railway and Hotel has been taking passengers to see the mesmerising Grand Canyon for more than 100 years. The railway trip takes you on a journey back in time, with restored rail cars and music. Watch the incredible terrain change from desert to pine forest. While you're here, you may as well park your vehicle and stay overnight.
Standin' on the Corner Park
Standing on a corner in Winslow, Arizona is such a fine sight to see, as the Eagles put it. In fact, the Standin' on the Corner Park, which is a public park in Winslow actually opened in 1999 after a public vote to commemorate the band's hit song 'Take It Easy'. To this day, it remains one of the most-photographed sites on the Mother Road.
Route 66 Auto Museum
Motoring fans absolutely must stop here, as you'll never see anything like it again. As you walk through the doors you're surrounded by several class, vintage, chrome and hot rod cars. All of the cars are in pristine condition, and some of them are even on sale. Check out the Route 66 memorabilia that surrounds these beauties.
The Blue Hole
In the middle of the desert in Santa Rosa is a gem, the Blue Hole. The stunning turquoise blue water seems to defy all logic in a land where cowboys, nomadic tribes and Route 66 drivers all sought respite here over the centuries. Keen divers can take a tour to explore the depths of this natural wonder. But you'll still have an incredible time jumping in and swimming at the surface.
Cadillac Ranch
This is another funky public art installation that you must see during your drive through. Cadillac Ranch has an interesting history. Amarillo billionaire Stanley Marsh 3 wanted public art to get the locals talking. A group of art-hippies from San Francisco, known as The Ant Farm, took up the cause and installed ten half-buried Cadillacs nose-first in the ground in 1974. It certainly did baffle a lot of viewers, and even though decades later the cars are stripped to their frames, the Cadillac Ranch is more popular than ever.
Cowgirls and Cowboys in the West
If you want a real cowboy experience then why not sign up for some horseback riding at the beautiful Los Cedros Ranch? Cowgirls and Cowboys in the West celebrates the history of the West by offering a variety of western experiences for visitors. You can also expert western style food as you step back in time to experience the Wild West.
Meramec Caverns
Underneath the rolling hills of the Meramec Valley is an underground cave system, which stretches more than 7 kilometres. This natural wonder took millions of years to form from the erosion of large limestone deposits. Join a guided tour to explore the underground walkways and find out how an entire 7-storey mansion was build underground.
Check out this LA to New York adventure