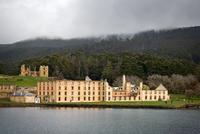 Tasmania's East Coast is the place with all the spectacular scenery, white sandy beaches and ancient forests waiting to be explored. The best way to see it all is with a self-drive holiday.
You just need to hire a car or campervan from DriveNow. Your itinerary of Tasmania's East Coast begins in Hobart and ends in Launceston.
Day 1: Hobart
Collect your DriveNow hire vehicle in Hobart to begin your trip of Tasmania's East Coast. Use this day to explore the city centre and waterfront. Just 30 minutes west of Hobart is Mount Wellington. Make your way to the summit of the mountain, which stands 1271 m tall. You'll see incredible views of the Tasman sea on a clear day.
Day 2: Port Arthur (pictured)
It's one of the country's most eerie places. The British created the penal settlement, known as Port Arthur, in the 1830s. Take a guided tour to learn about the convicts who were imprisoned here and the hard labour they endured. The World Heritage-Listed attraction is only 95 km from Hobart.
Day 3: Triabunna
Drive another 105 km north and you'll arrive at Tribunna, the gateway to the beautiful Maria Island. Stay here to explore the nearby wildlife sanctuary as well as the walking and cycling trails. On your way you can stop by Marion Bay for lunch as you admire the crystal clear waters.
Day 4: Bicheno
Continue north for Bicheno, one of Tasmania's most beautiful seaside towns. This natural wonder is also a great spot to go whale watching or get up and close with penguins with a guided tour. Make sure you visit the gorgeous Coles Bay. From here you can also see Tasmania's most famous attraction, Wineglass Bay.
Day 5: St Helens
About 75 km north of Bicheno is St Helens. This is the best place to base yourself if you'd like to discover the Bay of Fires, which stretches more than 50 km from Binalong Bay to Eddystone Point. It's famous for its white sandy beaches and orange granite boulders. There's a good chance you won't be able to put down your camera.
Day 6: Scottsdale
Head inland to Scottsdale. It's a 98 km drive, which will only take you about an hour and a half in travel time. This means you have plenty of opportunities to stop and admire scenery along the way. On the top of your to-do list in this lively agricultural town is a visit to the Bridestowe Lavener Estate, where you can learn about lavender's uses for cooking and perfumes, while surrounded by beautiful, rolling hills of purple.
Day 7: Launceston
Your journey through Tasmania's East Coast comes to an end when you arrive at your final destination, Launceston. People who enjoy the outdoors will want to flock straightaway to Launceston's famous Cataract Gorge. The nature park is truly spectacular, with activities like white water rafting available. But if the weather isn't too good, then art lovers should head indoors, beginning with a visit to the Queen Victoria Museum and Art Gallery.