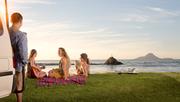 A drive through New Zealand's north island in a campervan is one of the best experiences you'll ever have. Head to DriveNow to hire a campervan in Auckland, then make your way to these fascinating areas.
Bay of Plenty
The beautiful Bay of Plenty is home to New Zealand's only active volcano, White Island. You'll have a chance to explore the island and learn about the country's volcanic workings. While in the Bay of Plenty, take in the sights of Tauranga Harbour with a kayaking trip, join a night-time glow worm tour on Lake McLaren, or swim with wild dolphins on a boat trip.
Wellington
Experience Wellington's vibrant street culture, and its lively city markets, walking and biking trails and superb dining scene. The city is also filled with museums, galleries and parkland, making Wellington an interesting destination with lots to see and do. One of Wellington's highlights – not to be missed – is the Mount Victoria Lookout, which looks upon the city and its surrounds.
Hamilton-Waikato
This is your chance to experience Middle Earth! Take a guided tour of the Hobbiton movie set, where the Lord of the Rings and The Hobbit stories came to life. During the tour, true LOTR fans will spot where certain scenes took place, but you'll also be treated to spectacular views of the Kaimai. Under the region's rolling hills, you'll also find a fascinating system of caves and underground sink holes.
Rotorua
Rotorua is an ideal destination for outdoor adventurers, with its crystal-clear waters and exciting mountain biking trails. You can also experience a taste of traditional Maori culture, by heading to a village on the edge of Lake Rotorua. Head a little bit further to Hot Water Beach, on the shores of Lake Tarawera, to experience Rotorua's volcanic and geothermal activity!
Lake Taupo
Visit the Huka Falls, which transports water from Lake Taupo in the Waikato River. To see the falls firsthand is a sight you'll never forget. The Huka Falls drops 220,000 litres of water every second! Afterwards, you can enjoy a relaxing walk along Lake Taupo, which can also take you through native forests, if you choose to do so.
BRIANNA PIAZZA