It's the holy grail of travel destinations – a place combining perfect weather, idyllic beaches, great food and world-standard wine. So why aren't more people flocking to South Australia's Fleurieu Peninsula?
Southern treasure
I guess I should be delighted that this hidden treasure south of Adelaide hasn't become the Australian version of California's Napa Valley, overrun by tourists and subsequently overblown and overpriced. Instead, it's South Australia's little secret, one which they seem quite happy to share with just a select few. And for those in the know, it's quite a find.
A driving holiday is the best way to experience this 'Land of Milk and Honey'. After picking up a campervan from DriveNow, we headed south on the Fleurieu Way via the Southern Expressway, the road opening to glorious rural vistas within half an hour of the city. There is 170 kilometres of coastline to meander along – stunning beaches pounded by the Southern Ocean offering sublime surfing, sun-worship or beachcombing in any season, flanked by gently rolling rills and peaceful hamlets.
At Old Noarlinga, however, the main road deviates inland via the McLaren Vale area. If you're a wine lover, it's definitely worth lingering here! One of the country's premier wine districts, there are more than 76 cellar doors open to the public – favourites include Chapel Hill (with its cellar located in an old church chapel and a fantastic cooking school onsite) and d'Arenberg (whose restaurant boasts sublime views across the valley).
Markets & hamlets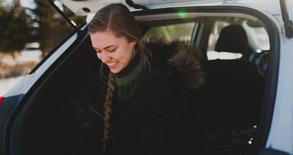 If you are travelling on a weekend, make sure to stop off at the Willunga Farmers Market, a gourmet's
delight selling organic vegetables, creamy cheeses, locally grown olive oil and freshly baked organic breads.
If you can drag yourself away from this fabulous part of the world, more coastal delights await – stunning beachside communities such as Aldinga, Yankalilla Bay and down to rugged Cape Jervis, jumping off point for Kangaroo Island.
If you have your family in tow, make a beeline to Victor Harbour, where the kids will love the horse-drawn tram across the causeway to visit the penguins on Granite Island. If you're travelling between June and October, pause for a while on top of the Bluff on the lookout for whales breaching in the ocean below.
In fact, if you are going to visit the Fleurieu, there really is no better time than in October, when the Fleurieu Fiesta is in full swing. This celebration of local food, wine and culture is a real treat – guaranteed to make you loosen your belt a notch or two!
ANGELA DE LEON