This one may not necessarily be the prettiest drives from Melbourne, but it's certainly the fastest way to reach the magic that awaits on the mighty Murray River. Echuca, about 200km north of Melbourne on the Victoria and NSW border, was once the biggest inland port in Australia and has retained much of that old world charm in the heart of town while also offering a cosmopolitan way of life too. In a nutshell there's the historic port to explore, great restaurants and pubs, big clubs over the border in Moama, a wealth of river activities including fishing, skiing, swimming, Paddlesteamer cruises and much more.
The journey
From Melbourne, it's a leisurely two and a half-to-three hour drive up the Hume and Northern highways and you'll pass through little towns including Kilmore, Heathcote, Elmore and Rochester – each with their own respective charms but nothing close to  the abundance of attractions, river appeal and cosmopolitan allure offered in Echuca.
The accommodation options are ample in this part of the world, so either grab a car, hit the highway and set up base in a hotel/B&B/resort or, better still, grab a campervan and stay in one of the excellent holiday parks (aka caravan parks) on either side of the border. Shady River Holiday Park or Murray River Holiday Park are two worth checking out online. You won't really need to venture too far from the town itself once you get there because there's so much to do!
Food, glorious food
Three special mentions for food and dining experiences that simply cannot be ignored: Oscar W's Wharfside matches just about any restaurant in Australia for its amazing riverside location, it's exquisite menu and first class service; Ceres in Nish St and in the historic Mill building; and Morrisons in Moama, another riverside treat that also doubles as a magnificent wedding and conference venue. There's a bunch of other terrific eateries in and around town including Top of the Town for fish'n'chips, Roma pizza restaurant in the heart of the city opposite the old post office and quality coffee shops/cafes all over the place. Famous Beechworth Bakery is worth a brekky one morning, despite being a tad on the expensive side.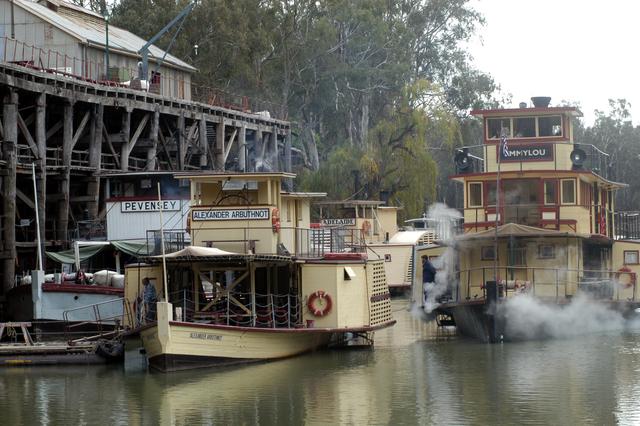 What to do
Or rather, what isn't there to do! Catch a paddlesteamer cruise, hit a sandy riverbank for a swim or a fish, hire a houseboat for a few days or a week to really experience river life, check out Madison Spa, lose yourself in the world of activities at the Port of Echuca including Sharp's Magic Movie House, explore the wharf or check out Oz Maze, National Holden Museum or Billabong Ranch.
AUSTIN BONHAM