CRUISING around in your Melbourne rental car to Victoria's hotpots can always be broken up with a bit of activity on the water whether it be a river, creek or the mighty ocean, so I recommend you pack your rods.
Let's start with the Great Southern Ocean. Just saying the name sounds impressive enough but when considering the idea of tackling it and chasing Bluefin Tuna, I feel it is always worth going with someone who knows the ocean like the back of their hand. I will always recommend you take a professional charter especially in waters that are very unpredictable.
It was only the day before that, in the same region of these very same waters, they landed a 140kg tuna. Sounds too good to be true, doesn't? But it was an extremely impressive catch. In the past two years as we have travelled Australia filming our TV show The Great Australian Doorstep, I have slowly tried to educate myself while tackling different ocean & fishing charters.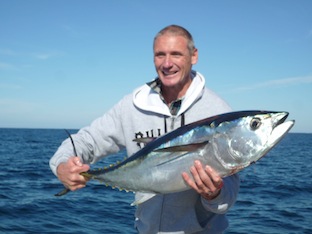 After heading to Portland, a 370km drive from Melbourne, otherwise about four and a half hours, we left right on dawn which ensured us time to cruise to somewhere around the vicinity of 22-odd nautical miles off shore, where I personally had no idea where on earth we were. We couldn't see land, anyway, and I had no idea which way was north, south, east or even west.
We set five rods out the back with a few different lures and began to trawl. All the crew were on a very close lookout at all times explaining that if there were tuna birds hanging around then tuna was close by. As the birds begin to circle and dive bomb, there was a sense of excitement. I personally had no idea what might or could happen so my eyes were glued to those birds. Amazingly, you can actually see the Tuna jump out! The crew were on their toes and my heart started to beat a little quicker as we trawled around them and not through them.
I also learnt something else. Within five minutes there it was – the exhilaration of the wwwwwwwiiiizzzzzzzzzzzzzzz of the reel as the Tuna hooks on. You must keep it coming in, and if it wants to run let it run, but slowly try and keep it coming, follow it around the edges of the boat, and that shiny flicker just metres below the boat gets you even more excited. After lots intense concentration we finally land it on the boat some 15 minutes later, a beautiful Bluefin Tuna – around 12kg to be exact. A nice size and plenty to eat. It all happened with one big adrenaline rush for the perfect catch!
Portland is a seaside village built on the enormous deep sea fishing it has to offer. If you love fishing, then Portland must be on the top of your itinerary list during your next great Victorian drive!
PETER "SPIDA" EVERITT
The Great Australian Doorstep, www.greataustraliandoorstep.com