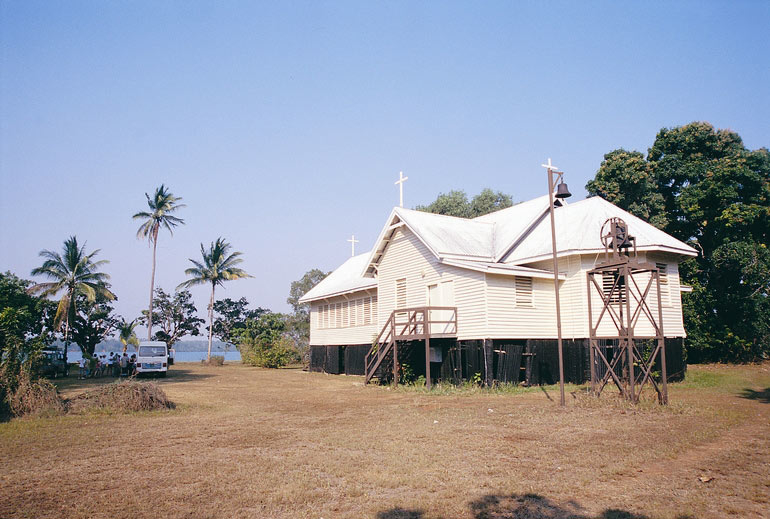 BEING surrounded by water means Australia has some of the most spectacular off-shore islands, none the least being the beautiful Tiwi Islands. Located 80km north of Darwin where the Arafura Sea joins the Timor Sea, it's well worth parking your Darwin campervan rental and spending a day or two on the Tiwi Islands.
We boarded SeaCat's passenger ferry Arafuru Pearl just out of Darwin at Cullen Bay and set sail for the Tiwi Islands community of Nguiu on Bathurst Island. The Tiwi Islands are just a two hour sail by boat. The islands will give you the best insight into the Indigenous way of life. The Arafuru Pearl operates Mondays, Wednesdays and Fridays leaving at 7.30am each morning and returning at 2.30pm. It costs only $70 per adult each way. Arriving at the port of Nguiu you are pleasantly surprised by a war welcome from locals who are fishing the waters either side of the boat ramp. It's here where the adventure really begins!
A short stroll from the boat ramp takes you to some of the local arts centres. Woodwork, pottery and some impressive local artwork will stay with you forever after visiting this place and understanding how it's all done. They spend countless hours fine-tuning some of the most beautiful artwork you will ever see. The three art centres are committed to the development and promotion of both traditional and contemporary art and craft in the form of painting, pottery, carving, weaving, etchings, linocuts, lithographs, jewellery and screen-printed textiles. Naturally all of it is for sale with the money raised going straight back into the community.
Continue strolling in and around town and you will stumble upon the local Catholic church which is stunning. It takes pride of place on the local primary school grounds. You can enter at any time but if it is locked the school office will have the key. It is a church made solely of timber and was built way back in the 1930s. The interior walls are decorated with crosshatched designs and paintings of stingrays, crocodiles, turtles and pelicans. Built from cypress pine, the church has withstood several cyclones.
Overall you will be walking on dusty red roads with no footpaths – just dirt tracks leading you to all major areas. It's actually refreshing to see that this place hasn't been commercialised. It's great to know they live far from the materialism of our mainland, and I can assure you that's like a breath of fresh air.
PETER "SPIDA" EVERITT
The Great Australian Doorstep airs on Channel 7TWO in Australia