Before we get into Dark Skies, let's just check that you understand what the Four Corners area of the US is, because, as you research a road trip in this great country you will hear it referred to a lot.
The Four Corners area incorporates Utah, Arizona, New Mexica, and Colorado (we like to hang Nevada on the side for an honorable mention, due to its similarities).  All states are both similar and extremely different in their terrain, flora, history, and size.  They all have many National Parks and National Monuments and combined are the premier states for Dark Sky Astrotrourism.   There are 25 certified international Dark Sky communities in the Four Corners area and Seven are in Arizona.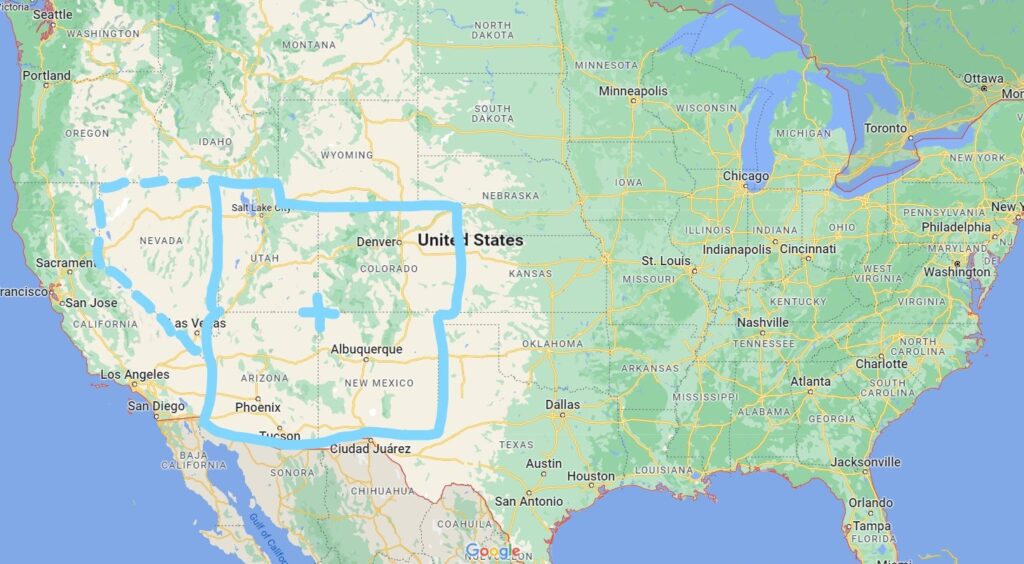 A Campervan or Motorhome trip in this area is the ultimate way to experience dazzling astrological views, coupled with equally fascinating daytime adventures.  Kicking off points could be Las Vegas, Phoenix, Flagstaff, Albuquerque, Denver or Salt Lake City.  
Incorporating a Dark Sky theme into your planning for Arizona, in particular, will give you a full day from dawn to beyond dusk of remarkable sights.  And although the whole state has loads to offer if you are incorporating Las Vegas, The Grand Canyon and moving eventually north you can stick to the northern part of the state and still have a full experience.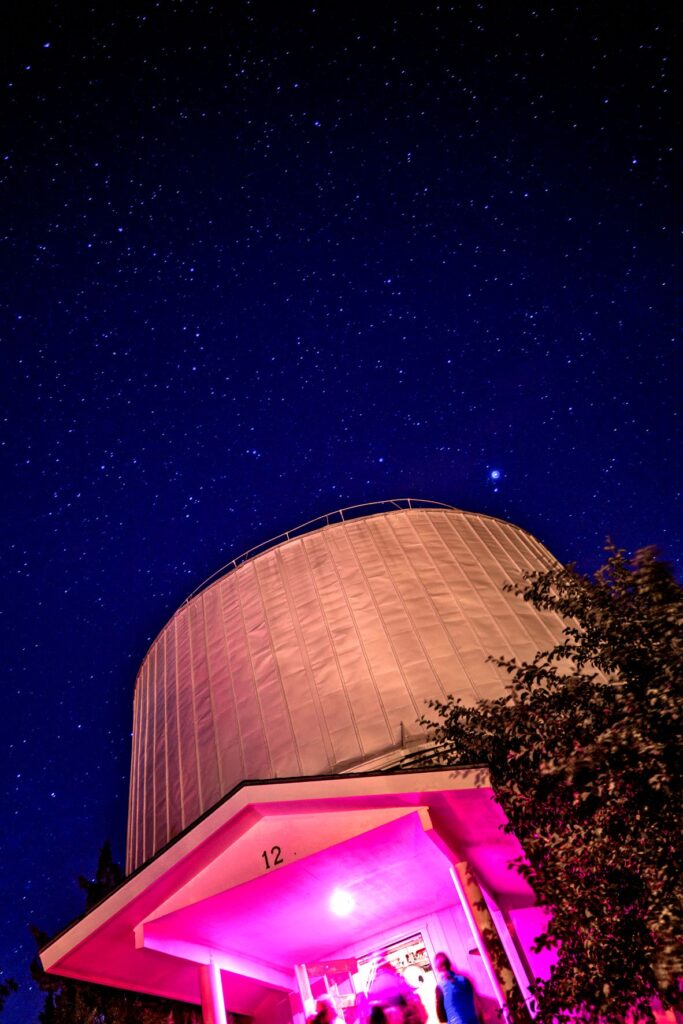 Lowell Observatory – Image courtesy – Arizona Tourism
The Grand Canyon is a Dark Skies park so you can start your observations there.  What makes Arizona such a great place for Astrological observation is the dry night skies that are generally clear, you won't have to allow a week in the hope of one good night.
From the Grand Canyon head down to the Flagstaff area (Approx 115km) and you will be rewarded with Sunset Crater Volcanic National Monument. Drive the loop that goes from Hwy 89,  55 km through Sunset Crater Volcano and Wupatki National Monuments.  The Wupatki National Monuments encapsulates citadel ruins of the ancient Puebloan people, the area that was once the heaving market center at the heart of the surrounding villages.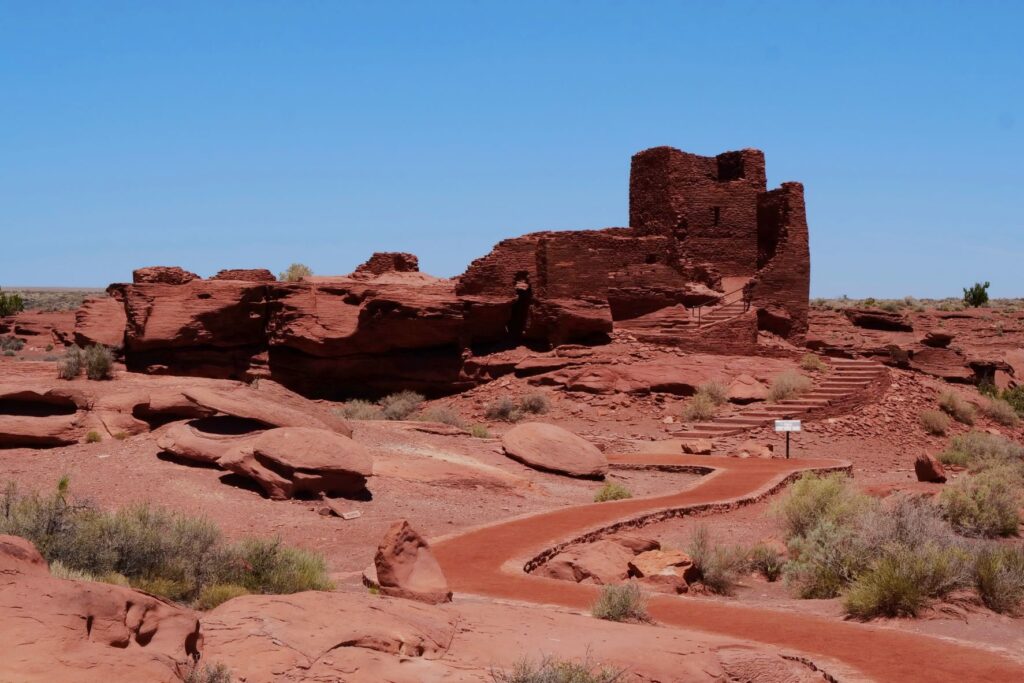 Wupatki National Monument – Courtesy Arizona Tourism/Lu Yang 
A must-visit is Walnut Canyon NM, take the historic Route 66 from Flagstaff rather than the I-40, it's only a 20-minute drive. Walnut Canyon National Monument offers a mixture of the canyon's unique geological formations and the ruins of the ancient cliff dwellings, a great contrast to the Wupatiki site.  There are also walking trails with abundant wildlife.  The trails are considered moderate to hard, mainly due to the altitude, so make sure you don't have any health issues that might be affected by this. 
For all these sites it's best to base yourself at the KOA Flagstaff campground. It has first-class campsites and facilities, you will be very comfortable here. 
In Flagstaff, there are two world-class Observatories to visit at night.  The Apache Sitgreaves and the Lowell Observatories.
Leave Flagstaff and travel east on the I-40 for Homolovi State Park (approx 100km), enjoy both an archeological cultural site and night skies that you can observe from your campground and the Winslow Homolovi Observatory.  Book your campsite well in advance.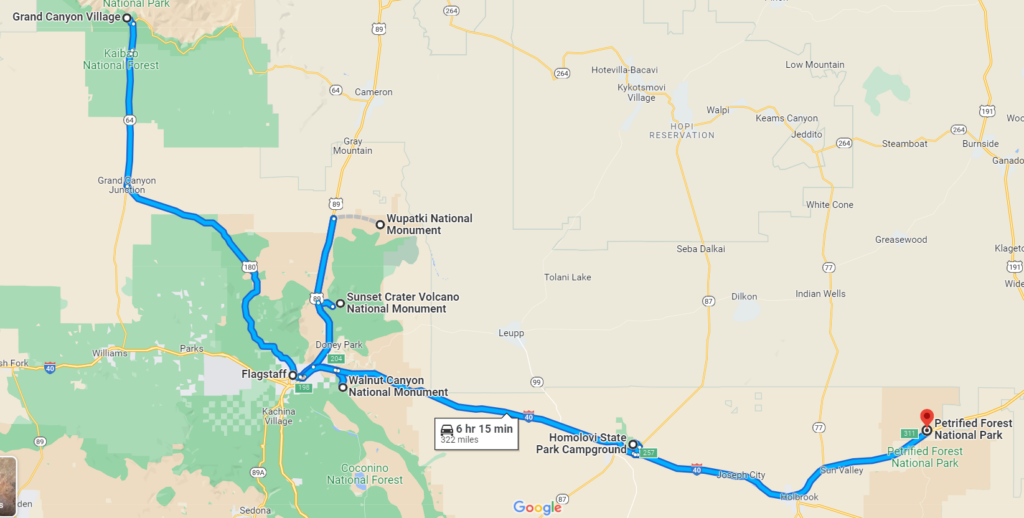 Before moving north keep going east for another 90 km to the Petrified Forest National Park. On a short loop walk, you can take in the solid quartz remains of an ancient forest and the Rainbow Forest Museum offers a paleontological display of the ancient dinosaurs of the area.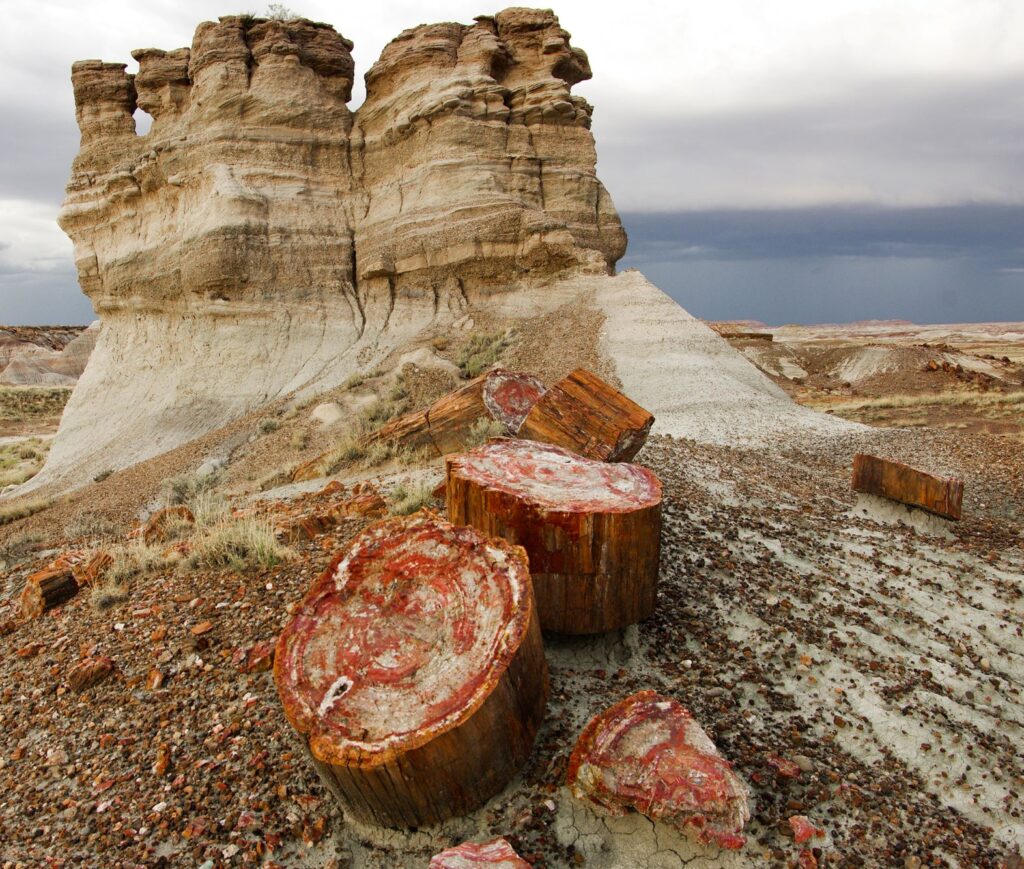 The Petrified Forest NP – image courtesy Arizona Tourism 
You don't have to be an astrologer to find the Arizona night sky simply sensational.  The state goes to a lot of trouble to actively discourage light pollution and has become internationally recognised for its efforts. 
When travelling in any of the Four Corner states, it's important to abide by the 'Leave No Trace' travel commitment. 
Plan ahead and prepare
Stick to the trails
Pick up your rubbish
Only 'tag' on Instagram
It's a dry environment, keep fires small
Don't touch or the feed the wildlife
Respect other travellers and tribal communities
Before you leave make sure you download the free AZ Parks Pass directly to your phone, it's great for easily accessing park information and interactive maps.