I RECENTLY wrote an article for News Ltd about how techno advancements and the sudden arrival of the "App Age" have redefined the way we travel these days for all sorts of travel. But it couldn't be more relevant to those who choose to holiday in the great outdoors by hitting the road in a campervan or car rental.
While it's hard to say what amazing revelations will be made in 2012 for the next generation of new travel gadgets and apps,  suddenly the sky is the limit and new technology means there's a lot to look forward to if you love the camping, caravanning or campervanning lifestyle.
As I mentioned in my article: "Today's traveller is suddenly packing, planning and exploring in so many different ways. We can now research the best deals, book and pay for flights, car hire, accommodation and tours all from the comfort of our home computer or smartphone while relaxing on the couch. We're using solar-powered or wind-up torches when camping, golf-ball sized compact and portable speaker docks, and quirky stuff such as foldable bikes and fishing rods, and even rubber thongs doubling as bottle openers. On the digital front we can access our favourite newspapers and magazines (which are now multi-sensory with video and audio feeds embedded) at any given moment while on holiday overseas and we can instantly connect with family and friends using such tools as Skype and social media."
It's all about being compact, connected and energy-efficient. Things will get smaller and faster as nanotechnology and more advanced processors come in and more eco-friendly methods are used to meet environmental standards, while designers nail better ergonomics and slicker-looking gadgets. Next year will be about new and improved apps and digital technology for travellers hitting the highway: geotagging capabilities, scanning technology, 3D and augmented reality, QR Codes and social media integration means a whole new world is starting to open up.
Here are 5 white-hot gadgets that will be ideal for throwing in your campervan rental or car hire for the next time you hit the road on your next adventure:
1) iPhone 4 (main picture above) and iPhone 3 battery cases. Price range, $69 to $99.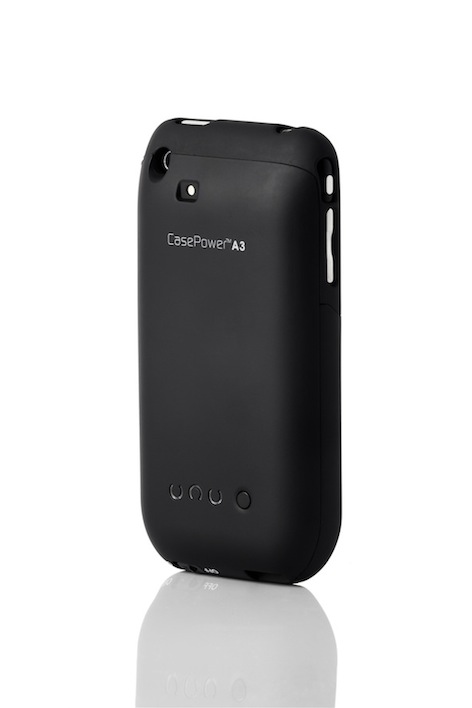 www.casepoweroz.com
Probably the best travel gadget is your smartphone, period, but the year's best gadget has to be the mighty Casepower Oz unit, a dream solution for iPhone lovers looking to power up. It's not a new concept, but the iPhone cases out in the marketplace that double as battery chargers are generally clunky and chunky or don't deliver on their promise. Casepower has nailed the perfect formula with battery cases that are slickly designed (Sweden) and pack a powerful punch by almost doubling your power. We all know the need for power is increasing by the minute with the number of apps we're downloading and using these days and also the other multiple ways we're using our iPhones for such things as email, reading ebooks, checking the internet or using as an iPod. Casepower's price-point is better than any others as far as I can see too. Awesome to power up your old iPhone 3 if you've decided not to upgrade, too, and keep your eye on the website www.casepoweroz.com for ipad units in 2012.
2) Nikon 1 point and shoot camera with HD video. Price range $800-900.
www.mynikonlife.com.au
WITH stylish old-fashioned looks and that feeling of being solid in your hand, you could be forgiven for thinking this is a reproduction of Nikon's 1980s-era camera gear, but as soon as you turn it on and start clicking it's clear you're well and truly in the digital age. Speed is the key – the response time on shots is fast and the autofocus feature in a compact number like this is quite swift. Then there's the Movie Mode function that provided the real surprise, deliver crystal clear video and audio in full HD – it's quite hard to believe just how good. While the standard model comes with one interchangeable NIKKOR lens, there are kits with twin zoom lenses and it's available in black, white, silver, pink and red. It's a little beauty that fits into your pocket but packs a real punch for quality. One of the more conveniently small and effective cameras I've ever played with.
3) In Car USB Charging Outlet. Price range around $10-$15
www.globaltravelproducts.com.au
Hit the road for 24 hours with the kids and before long someone needs to recharge something. This charger is perfect for the GPS, DS consoles, camera battery and mobile phone. Best of all, simply plug it in while you're enjoying that long drive or attach it to the 12-Volt outlet in the caravan or RV/campervan.
4) Coleman CPX 4.5 LED Tent Light. Price range around $35-$40
www.colemanaustralia.com.au
HANDS-free lighting is a must for camping and this tent light is an absolute winner with its hands-free options alone. The Coleman CPX can magnetically attach to any tent thanks to a removable magnetic cap, or can be placed on any metal surface without the cap. But if there is a bail handle or hook nearby, the cap also has a metal eyelet to hang it. Powered by three AAA batteries which are included, the tent light has three settings: bright, slightly dimmer and also an amber coloured night light, which means the kids should stay asleep when you're poking around in the tent looking for that bottle of plonk, err, I mean, something late at night. Next to the position switch is a battery meter that lights up when the unit is on, letting you know when power is running low. Tent lights don't get much better than this one for clever design and practical considerations.
5) 321 Water reusable water bottle. Price range around $35-$40
www.321water.com
What a great gadget. Simply fill the bottle with tap water and plunge the "filter tree"; that's the blue part which houses the filtering tablet at the base, much like a coffee plunger mechanism, and that's all that's required to have pure, clean and filtered water. The bottle itself is BPA-free, durable and the 500ml bottle is a smidge over 22cm tall. Each 321 vessel comes with one filter disc that cleans up to 50L of water, which equates to about 100 times. Replacement filter discs are available at the website and are affordable, as is the bottle itself which makes it a viable alternative for bottled water. Recently it won a Silver award at the international Spark: Pro Awards in San Francisco, which recognize designs that improve our lives and our world. As part of the criteria, the designs were required to improve the quality of the environment, contribute to progress and longevity and sustain or preserve our planet's limited resources, all of which 321 Water has covered in spades. And that's cool.