Airlie Beach and Shute Harbour are well identified tourist destinations along the central Queensland coast.  Alive with resorts, upmarket shopping, scenic attractions and the like, these centres are a busy and cosmopolitan part of the broader tourism of Queensland. But the central Queensland, Whitsunday region has some terrific hidden gems that will tempt even the most discerning of traveller. One such gem is the beautiful Conway Beach.
Location
Situated only 39km from Airlie Beach, this small township is truly a hidden gem. Largely populated by retirees, the settlement is nestled in a large bay as beautiful as anything else the Whitsundays has to offer. A sweeping tranquil bay, with a golden sand beach, water the colour of aquamarine and flanked by green coloured hills… the view is amazing. Easy access is gained along a bitumen, two lane road that runs through rain forest and gently hilled areas making for great photo opportunities. There is birdlife in abundance.
The Hub
Without doubt, the hub of the Conway Beach community is the Conway Beach Tourist Park. The venue started life decades ago as a 'rough' camp for intrepid fisher folk determined to make angling a real success. The area remained a 'secret' for many years but progressively morphed into a camp ground area visited by people other than just fisherman. As time moved forward the decades saw an increase in camp facilities, the arrival of caravans and motor homes and the birth of a more modern managed camp ground.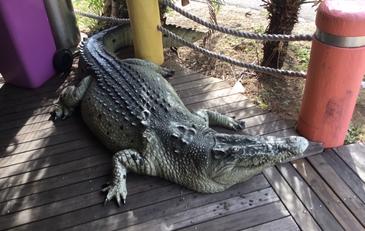 Conway Beach Tourist Park
The venue is now an accomplished tourist park venue with an appeal to all manner of customers.  Management has a wealth of experience and this is clearly reflected in the positive customer 'experience' available. As a result, well appointed cabins and significant shaded sites (both powered and unpowered) combine with wonderful guest facilities. Facilities come in all shapes and sizes from a fish cleaning area complete with pots to cook your crabs, a water park, a large pool, sandpits and play areas, pizza making and the list goes on.  The peel of laughter from both young and old is loud and clear, as guests are taken by 'train', on the Beach Express, the short distance to and from the beach.
Unique
Plenty of good reasons to attend Conway Beach already, but what about the Diner! (pictured top) George's Diner is named after the owner and it is a scene straight out of an episode of Happy Days!  An absolute 'must see' when attending the Whitsundays, the diner is exactly what you would expect and feels like it has been transported forward in time from the 1950s.  Formica table tops, lots of chrome, neon lights and signage all compete with a full size jukebox for your listening pleasure. Don't forget the menu – sodas, burgers, fries, coke, ice cream, this place has it all. To top it all off, like any good diner, the Banana Split is simply brilliant. This is a must-see and a must-experience venue.
Happy Days and Happy Travels.
THE CHAIR

(DriveNow has teamed up with "The Chair", none other than Dennis Werthenbach, the enigmatic and super popular chairman of the board for Family Parks Holiday Parks & Campgrounds – for more than 26 years, Family Parks has represented independent caravan parks and camping grounds, promoting fantastic holiday destinations for travellers young and old. With so many great caravan and camping parks throughout Australia and New Zealand, Family Parks is more than just a holiday, it's a unique holiday experience.)