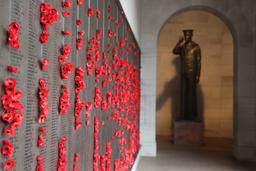 Canberra is almost famous for its winter chill factor. However, don't let that stop you from checking out some of the best sights near the Australian capital this winter.
The cold weather means two things. Not only do you get to rug up and get cosy by a fireplace or at indoor venues, but it also means you escape the tourist crowds that come with summer holidays.
Hire a car from Canberra Airport and drive to some of these top places and things to do.
Australian War Memorial
The most touching attraction in Canberra is undoubtedly the Australian War Memorial, which is dedicated to the lives lost serving Australia in war. Walk through the memorial and you'll notice the names of every Australian who died in war since 1885 inscribed in bronze. It's free to enter this site and learn about Australia's armed conflicts and the stories of war heroes. Exhibits are constantly changing, so there's always something new to see.
Royal Australian Mint
Spend an hour or so at the Royal Australian Mint to learn about the history of Australia's currency. Every single Australian coin has been minted here. Watch the manufacturing process from a gallery and browse displays. You can even create your very own $1 coin. All is possible with a free tour of the site.
Snow in winter
The snow season runs from June to October, and the beauty of Canberra is it's so close to many of the country's ski fields. You can ski or snowboard at resorts like Thredbo, which has a stunning alpine village, or Perisher, which is the southern hemisphere's largest ski resort. However, for those who don't want to venture far for snow, you can still ride a toboggan, build a snowman or go skiing at Corin Forest Recreational Park. Its purpose-built snow area is only 45 minutes from the city.
Wine region
Canberra's wine region has more than 30 wineries, all within about half an hour's drive of the city. Browse boutique cellar doors to sample local creations. The area is increasingly popular for its Riesling, Viognier and Tempranillo. You can also choose to visit a whiskey distillery and microbrewery for handcrafted brews. Indulge by match these top drops with experiences from fine dining to wood-fired pizzas. There are also guided tours where you can hop from one winery to another.
Canberra Writers' Festival
This is the place to be for book lovers, authors and political followers. This winter people from across Australia will meet in the nation's capital for the inaugural writers' festival 'Power, Politics, Passion'. There will be many high profile panellists and speakers including Bob Brown, Stan Grant and Kerry O'Brien. The festival runs from August 23 to 26.
BRIANNA PIAZZA