YES you didn't misread the title, and NO it's not another one of those sales gimmicks. Truly it is possible to rent a Campervan for as little as a $1 a day or even essentially for nothing from some of Australia's leading providers.
So, perhaps a bit of background to explain what's this all about and how it comes about.
With Campervans and other vehicles being hired and dropped off at different locations around the country, the rental companies are often left in the position of having plenty of vehicles but sitting in the wrong locations. These need to be moved across to branches where customers are expected.
In particular this becomes more necessary as the Australian Seasons change.  Popular Touring times in Northern Australia – Darwin, Broome and Cairns are during the Dry season running from May until late October. For Southern parts of Australia the most popular touring period is generally November through until mid-to-late autumn in April and May.
At the end of each touring season rental companies tend to have too many vehicles in the wrong part of the country and hence the need to relocate them.  During these season changes tends to be the time when the greatest numbers of relocation deals are available.
Vehicle Relocations cost time, effort and money if undertaken by the rental companies themselves.  They quickly realised that a much better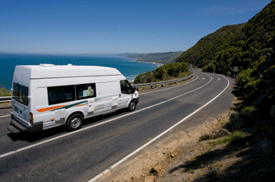 option was to provide one-way campervan deals at substantially discounted prices (down to as little as a $1 a day) and have the travelling public relocate the vehicles for them. Often free fuel is included with offers of up to $350 of fuel not uncommon.
This is a complete win-win outcome. The vehicles are relocated at minimal cost to the rental company and travellers get amazing deals.  Think about this, a top of the range Deluxe Motorhome can cost in excess of $300 a day to rent, so to pick it up for $1 or $5 has got to be a bargain in anyone's eyes. Generally you are given 6 or 7 days to travel between the locations however different suppliers have different conditions and the travel time allowed does vary on the distance between branches.
How does it work?
Some suppliers allow you to go on the register of Drivers and they will then contact you when a vehicle is available. Or if you have a flexible agenda you can see what deals are available within the next 4 weeks
Several websites including www.drivenow.com.au list all the Relocation Deals available in the next few weeks.  Unlike some, DriveNow does not charge a booking fee. The full benefit of the relocation is passed on to the customer.
On picking up your Campervan you must drop it off at the specified destination by the specified date during business hours of the destination branch. Failure to do so does incur hefty daily penalties.
Some suppliers also have limits on free kilometres of travel between cities. These generally allow for scope to enjoy the journey but once exceeded a per km fee is charged.
Your trip will be subject to the standard insurance options of a regular campervan rental. That is, unless you take an insurance excess reduction option, a bond of AU$7500 will be lodged on your credit card at pick up and returned when you drop off the vehicle subject to any damage.
So, with all this good news what are the drawbacks for travellers? Well four spring to mind:
Your choice of campervan will be limited to those that are up for relocation
Only certain Pick up and Drop off locations will be available and you

must

drop off the Campervan by the specified date or incur additional full daily charges
Some providers have a cap on the number of kilometres you can travel for free between locations before a per km fee is incurred. The free allowance is enough to get you to the drop off point with a wee bit of room for wandering.
Deals are available on an ad hoc basis, there's no booking months in advance
The bottom line is that if you can travel at short notice and then work to a timetable between locations then these Relocation deals will save you an absolute fortune on Campervan Rental. To have free fuel thrown in is the icing on the cake.
For further information on current one way rental deals in Australia check out DriveNow's One Way Campervan Rental Deal information pages.