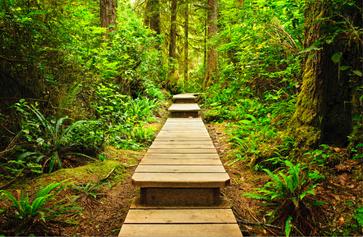 Vancouver and its surrounds have so much to offer the adventurous traveller. Nature lovers will easily fall in love with this beautiful part of the world.
That's why you should look to hire a car or campervan from Vancouver Airport. You'll have the freedom to explore the wilderness of British Columbia however you please.
Here are some of our favourite camping and caravanning spots within a day's drive from Vancouver.
Pacific Rim National Park
5 and a half hours south west of Vancouver
This is a sight for sore eyes. A seemingly endless Long Beach with a backdrop of stunning rainforest and mountains. Spend a few hours here and you can easily see why this is one of Canada's most popular tourist attractions. It's a great spot for swimming, surfing, whale watching and relaxing on the beach.
Where to stay: Green Point Campground on long Beach. The park has drive in and walk in sites, limited motorhome availability so check details before you arrive.
Alice Lake Provincial Park
1 hr north of Vancouver
This is a popular camping spot in summer. Tall mountains and forest surround Alice Lake. It also has several scenic hiking trails, such as the Four Lakes Trail. It takes you away from the crowds and past creeks and forest to views of Squamish River. Swimming and fishing are popular activities in this wonderland.
Where to stay: camping and cabin sites are available within the park.
Yoho National Park
8 hrs north east of Vancouver
This is Banff's less famous neighbour, but this alpine wilderness not any less impressive. Yoho National Park has Canada's second highest waterfall at 384 metres high, Takakkaw Falls. It also boats a famous fossil site, the Burgess Shale. Emerald Lake lives up to its name with its deep turquoise colour. Something you must see if you're visiting Yoho!
Where to stay: camp among glaciers at Takakkaw Falls campground, or stay at the Luxury Lake O'Hara Lodge, or the Emerald Lake Lodge.
Mount Robson Provincial Park
7 and a half hours north east of Vancouver
Mount Robson is the highest peak in the Rockies. Tucked beneath is the gorgeous Berg Lake, which offers views of majestic mountains and pine forests. You can only reach it by hiking through the wilderness of Mount Robson Provincial Park. If you want to see Berg Glacier, which feeds the lake, then you must travel through the beautiful Valley of a Thousand Waterfalls.
Where to stay: Robson Meadows and Robson River both have campgrounds. There's also Yellowhead RV Park and Campground for caravans.
BRIANNA PIAZZA