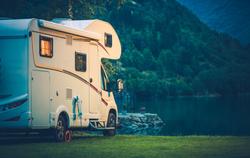 Summer is the best time of year to snag a bargain campervan hire deal from your nearest capital city. With summer just around the corner, we've prepared some campervanning tips to help make things easier for your next adventure. Here are our top five campervanning tips:
1. Finding a campervan
One of the best campervanning tips we can share, of course, is where to find the best campervan hire deals if you don't own one. DriveNow rents campervans, giving you a wide choice of vehicles at affordable costs, with no booking fees. You can rent a campervan for as little as one dollar a day with DriveNow's campervan relocation rentals or even start planning for your American summer road trip in a motorhome mid-year 2019.
2. Stock up!
There's the obvious list – bring food, sunscreen, bug spray, a first-aid kit, hand sanitiser, bin liners, extra towels. However, something that travellers commonly overlook are battery chargers. There's no point in bringing your camera, phone, rechargeable torch, etc if you can't recharge the batteries! Also think about equipment like ropes and hammers to knock tarp pegs into the ground – believe it or not, sometimes it can be very difficult to find a hard rock in the outback!
Creature comforts, such as extra bedding and outdoor table and chairs, are definitely worth investing in if you want to relax on your holiday.
3. Have a GPS and a hard copy of a map
These days we use our phones for everything – even finding our way from A to B. But people tend to forget many outback or country destinations lack phone and internet reception. Not to mention you could even lose your phone, or your GPS could suddenly stop working! So it's always handy to bring a good old-fashion road map with you.
4. Do your research and follow the rules
In many national parks across the country, campfires are banned during the warmer months because of bushfire danger. However, all too often people find themselves arriving at campsites without reading the signs nearby. If you're caught with a campfire in a restricted zone, you can expect a hefty fine. Same applies to feeding wildlife and littering.
5. Where to stay
You can generally find a place to park your campervan in privately owned but expensive caravan and holiday parks. These are a great choice if you enjoy a little bit of luxury and services, like showers with hot water. National park sites are state-run and cheaper, but are more basic and facilities vary from one park to another. There are some free sites around the country which are fantastic if you're completely self-sufficient and want to enjoy nature at its finest. However, some free sites offer limited stays only, and you must ensure you don't leave rubbish behind.
BRIANNA PIAZZA