All successful travel needs planning, no more so than travelling with kids.  The advantage of a family travelling in a Motorhome or Campervan is obvious from a cost perspective but with a bit of planning, there is no need to compromise on anything that a luxury trip would offer.
Meet the Cooper Troopers
For first-hand advice, we spoke to the Cooper Family who has done this type of holiday regularly.  Grant and Kelly have 3 children, they started camping trips with them when they were 10, 8 and 6 years old respectively. They have great ideas, advice and thoughts on how to make your trip fun, easy and relaxing for everyone.
When to travel
Any time of year. It will just affect where you choose to go, there are great things to do in summer and winter. Motorhomes and campers have reverse cycle air conditioning.  The Coopers have taken their kids to the snowfields, they have even taken them on extended trips that involved missing some school.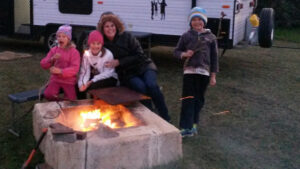 How long should you travel
Not everyone can do 6 months on the road but a 2 to 4-week trip will be an adventure that the kids will remember for a lifetime. Check out the itineraries on our website, when you're travelling with kids you can turn our 2-week itineraries into a month and give yourself and the kids more time to relax along the way.
Packing
Clothes – Don't take too many, this will be a casual holiday and holiday parks have laundries, you can wash easily and cheaply along the way. Save some coins up before you go for this and put front loader washing detergent on your shopping list (capsules are good)
Take bath and beach towels.
Home town camper pickups – If you already have camp chairs and a picnic table, take them. You may also have the luxury of bikes, skateboards, surfboards.
Flying into another pickup city – just take towels and hire the rest.
Pets – You can take the family dog, but it will place some restrictions on the campgrounds you stay in, most National Parks won't allow dogs. No free camping in Tasmania for the pooch either.
Food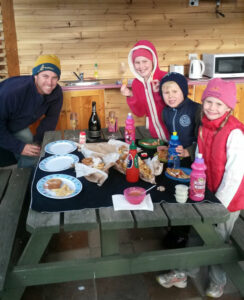 Plan your menu.  This takes the stress out of the everyday grind for the family cook. You can even take some frozen dishes with you to put straight in your van's fridge or freezer on pickup. It's a good idea to do your shop straight away after pickup, there will be a lot of excitement at the first campsite. Campers all have good facilities but keep it simple when you're planning the menu.  Most campgrounds also have great BBQ facilities and camp kitchens which provide a nice way to meet other families, be flexible.
If you are keen to eat out,  you will find that good holiday parks in larger centres have Pizzerias, Pubs, RSL's and small family restaurants within walking distance, plan to splurge where it's easy to do so.  Lunch on your travelling days is also a good time to eat out.
Bathrooms
Use the campground amenities block whenever possible, they are usually spacious and clean That doesn't mean you shouldn't opt for a bathroom in your vehicle, use your campervans bathroom for night time, rainy days or if you have a long walk from the facilities. It's a great luxury to have the option.
Depending on the age of your kids, set them all up with a hooked (for the back of the shower room door) grab and go toilet bag, each with a small soap, small shampoo and conditioner, a little toothpaste and brush.  You will soon find out who's most responsible amongst your brood.  The Cooper family let their 2 girls aged 10 and 8 go to the amenities block alone (together) but their little fella (6yrs) always went with Dad.
Holiday Parks
Or campgrounds, whatever you or they choose to call them, pre-book when you really want to ensure the location,  you are sticking to an itinerary or you're travelling in peak times.
What to look for:
Something for the kids,  a nice swimming pool, water slides, playgrounds, trampolines, skate park.
Good location, close to the beach, the zoo, the town, the river etc etc…and close to a bottle shop!
Good reputation, check out the reviews. Don't believe one bad experience, some people love to complain so make sure you get a good overview from multiple reviewers, and from people that were travelling with kids.
Park groups that families love
Some park groups have loyalty programs which can work to help you save some extra money.
Cooper Troopers kids' Favourite Parks
How to keep the kids occupied on the driving days
The obvious – download some movies onto iPads (or alike).
Old-fashioned fun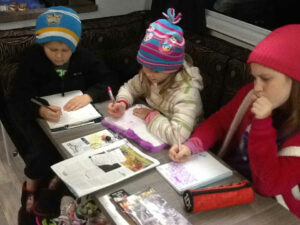 Story Time – create a story – The parents start it off, everyone has a turn at adding to the development of it – if you write it down the kids can illustrate it at night.
Hypothetical – "what would you do if…."

You were trapped on a deserted island?
Became rich overnight?
Grant a wish to someone?
What superpower would you choose?

Number plate game – collect plates starting A – Z, from all states, make up a sentence from the letters.
Shopping Game – "I went to the supermarket and bought an apple" next person repeats and adds etc etc.. You can also spice it up by going to the Pet shop, Hardware or speciality store.
Secret Roads – Collect maps from information centres along the way and show the kids the route your taking, get them to find a secret road along the route.
For night time fun take some board games and playing cards.
Weather
Of course, you can't control it but you can plan for it.  If you're on a month-long adventure, change your itinerary, pick up and move along to better conditions or to a destination that isn't weather dependent for a good time.
Just do it
You will have no regrets and your kids will still be talking about it when they are adults.