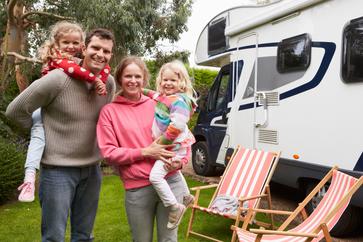 Are you planning a campervan trip in Australia, but you're not quite sure where to start? Make your dream campervan trip come true with our handy little trick that will make planning a campervan trip easier. Importantly, it will also save regular travellers money.
Start by renting a campervan, which you can do in every state of Australia with DriveNow. Then check out places to stay with a Family Parks Australia and we recommend signing up for a Family Parks
Australia membership. It's a small fee every two years, but the rewards are priceless.
We caught up with Family Parks Australia's Dennis Werthenbach about of the benefits of membership and the latest of what's happening in the industry.
What is Family Parks Australia?
"Family Parks is a network of independently owned and operated parks and campgrounds. We represent 40,000 members across Australia. We aren't a franchise but what we do is promote holiday destinations for travellers of all ages. Our member parks and campgrounds sit on beautiful, rivers, lakes, beachside areas, in the countryside and we're even in urban areas."
What are the benefits of a Family Parks Australia membership?
"If you sign up to be a member, you receive a loyalty card which gives you a 10 per cent discount every time you come through one of the parks. It's cheap as chips and many park operators will include discounts to local restaurants and other services. For example, you might also get 10 per cent off your meal at the local restaurant.
The reason why so many businesses are starting to include these types of discounts is because regional communities realise that if caravan parks can provide extras, then people are more likely to spend several nights. It's a win-win for both park operators and local businesses because tourism helps economic growth in regional towns."
Where in Australia can holidaymakers find these deals?
"We have a network of parks across Australia and we are always moving forward with new venues.  In the last few months five new parks in Victoria alone have joined our ranks. But we also have dedicated parks in New Zealand. In fact, we've recently expanded overseas and we now the first international chain in Australia to have parks in China. If you're a Family Parks member, you also get discounts in New Zealand and China."
Is campervanning booming in popularity in countries like China?
There's been a massive surge in the last decade in China to develop their own holiday parks and tourism. Similarly, we've seen a massive influx of Chinese people coming to Australia and they're hiring cars and caravans as they travel around the country. This is absolutely huge for our industry."
Do you have some favourite destinations and caravan parks to share with DriveNow readers?
"So many come to mind. But one of my favourites is Shelly Beach Family Park at Ceduna. Imagine 55 acres of absolutely stunning countryside with hills that lead right onto Shelley Beach.
I also think Coolum Beach Holiday Park is special. You walk over the dunes and you have the whole Coolum Beach there, with the Surf Life Saving Club. An added bonus is that the area and the park are pet friendly. In fact, nearly 80% of our parks are pet friendly, which is increasingly important for Aussie travellers."
BRIANNA PIAZZA