Discover what makes this 4 Wheel Drive the perfect companion for two to take you off the beaten track and discover the ultimate Australian camping adventure.
Vehicle:      Kea 4 Wheel Drive Rental – 2+1 berth
Style:           LandCruiser Wheel Drive Camper 2011 and later models
Engine:        4.5L Turbo Diesel
Fuel:            14 litre per 100km / 2 x 90 Litre tanks
Features:     Manual, 5 Speed, Power Steering, ABS, Air Bags
Beds:           1 x double and 1 single – linen provided
Kitchen:       1 Burner Gas Stove, Fridge, all Cooking utensils
Bathroom:    External Shower, 90 Litre Fresh water tank
Storage:       Internal in rear area
Features:     AC (Driver Cabin), Heating, Radio, CD Player
Included:     Fly screens, volt meter, fuel tank monitors
Optional:     Portable toilet for hire
---
Built on Toyota's durable LandCruiser the Kea 4WD Pop-Top fleet are all 2011 or later models and come equipped with a 4.5 litre V8 Turbo diesel engine, manual transmission and long range fel tanks (2 x 90 litres) giving you that extra range often required when travelling in more remote parts of Australia.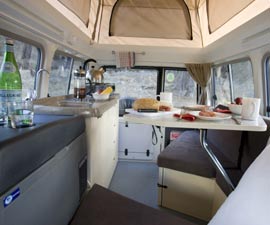 4 Wheel Drive Rentals have traditionally been quite 'busy' down the back when combined with Campervan duties with so much needed to be packed into a relatively small space. KEA's Pop-Top has taken a refreshingly differently approach and with the roof up offers clever use of space.
The kitchen is well equipped with sink (with 'ambient' water – non-heated), cooking and eating utensils and plenty of storage space. 2 single burner stoves providing cooking facilities and a 80 litre fridge sits neatly behind the drivers.
An external shower can be plugged into the side of the vehicle to make use of the 90 litre fresh water tank although as with the sink the water is not heated.
The Pop-Top is surprisingly easy to raise, release 4 clips and push the roof up and you're done. A 64 watt Solar panel sits on top of the roof which also has fly screens for those hot nights on the road. Power down back the can be supplied by hooking up to the mains on powered caravan park sites, the solar roof panel and a 12 volt dedicated house battery.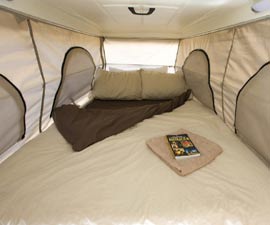 Bedding comes by way of a double bed sitting up in the Pop-Top itself whilst the kitchen area converts to a large single bed below.
Comforts up front include everything we just about take for granted these days, with Air-Con in the Driver's cabin, CD Radio that has Aux and USB ports for the ubiquitous MP3 player and from a safety view point the vehicles are air-bag equipped.
In a nutshell the KEA 4 Wheel Drive has everything you need to go off road and explore that little bit further without having to rough it completely. The Landcruiser is the perfect vehicle for the Australian environment with a proven track record of being one of the hardiest and most resilient of 4 Wheel Drives.
So who is the Pop-Top best suited for? Whilst 2 + 1 child will work and work well, the best combination is undoubtedly 2 travellers.