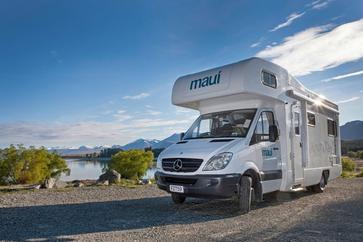 A campervan holiday is many things – fun, adventure and even a bit of relaxation. Not only is a campervan holiday a great way to see the great outdoors or switch off from work. It can actually be good for the soul.
Here are eight reasons why you should take a campervan holiday.
1. Take the financial stress out of a holiday
Is your bank account running low? A campervan holiday is easily one of the most affordable ways to travel. Forget about costly flights. You have your night's accommodation and transport covered with a campervan and there are so many affordable holiday parks where you can park your wheels. You can also snap up cheap campervan deals or relocation deals for as little as $5 a day with DriveNow.
2. Freedom and convenience
Daily life is stressful and it feels like you're doing everything to a schedule. Campervan holidays are the opposite. There's no need to worry about the stresses of holidays like late check in or getting up early for a tour unless you want to. Your bed is with you wherever you go, and you have the freedom to change your route at any time.
3. Wake up to a new view everyday
One of the best things about a campervan roadtrip is that you literally wake up to different scenery every single day! You're spoiled for choice when it comes to picturesque locations.
4. It's a great way to experience nature
Campervan holidays get you back to basics with nature. Spend days or weeks at beautiful locations where you can admire Australia's natural gems. Imagine golden sunrises and sunsets, hanging out under the starry sky, hiking through a forest or fishing by the beach.
5. It's good for your health
There's a wealth of research to prove that spending time in nature (as campervan holidays offer) reduces stress and calms your mood. This can have flow-on health benefits. Pick camping reserves or holiday parks around Australia that are by the beach, a lake, forest or rolling green hills.
6. Get social
While staying at holiday parks you're bound to encounter other friendly families and couples who are also travelling. A dinner barbecue or sharing beers around the campsite a great way to meet interesting people from all walks of life.
7. You can squeeze in a lot of destinations
If you're the type of person who wants to see it all then you'll love a campervan holiday. You can literally spend each night in a different place and pack your days full of activities. Only a campervan road trip gives you the option to do so much in a short amount of time.
8. You can get off the beaten track
A campervan allows you to easily experience the road less travelled. If you want to get away from Surfers Paradise then you can drive inland to the gorgeous Hinterland or beyond. Or if you want to get out of Melbourne you can head east along the quiet pockets of the Gippsland coast.
BRIANNA PIAZZA