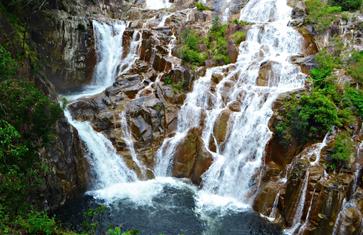 Australia is home to some of the best beaches and countryside scenery. But did you know there are hundreds of incredible Australian waterfalls spread across the country?
Here's our pick of some of the most beautiful Australian waterfalls. Grab your togs and a bargain car hire deal from any major Australian city and you're all set!
Behana Gorge, Far North Queensland
Half an hour south of Cairns
Escape the tropical heat of the Far North with a trek to a tranquil spot away from the tourists. Once you reach Behana Gorge it's easy to see why locals consider this serene 45 minute walk to be 'the Cairns Hike in Paradise'. Cool swimming holes surrounded by large granite boulders and lush rainforest. Just make sure you bring a bottle of water and snacks with you.
Fitzroy Falls, NSW
2 hrs south of Sydney
Venture to the Kangaroo Valley to see the amazing Fitzroy Falls. Feel the cool spray of the falls, which cascade 82m down a cliff into a large pool. It's a picture perfect sight, with wonderful forest scenery and walking tracks. Expect to see some iconic Australian wildlife along the way, including kangaroos, wedge-tailed eagles and lyrebirds.
Mitchell Falls, WA
30 hrs north east of Broome
Admire the best of the rugged Kimberley Region with a trip to Mitchell Falls. The multi-tiered waterfall looks inviting on a hot day in the outback. Not to mention the deep red rocks that make up the surrounding cliffs, as water plunges into the Mitchell River. You'll need a 4WD to conquer the rough track to get to the falls… but the journey is well worth it!
Mackenzie Falls, Victoria
3 hrs north west of Melbourne
It's amazing how a gushing waterfall can exist in one of the harshest parts of the country, where droughts are all too familiar. People travel from all over the country to hike the nearly 10km trail and see the 30m high falls. Swimming isn't allowed but you'll still want to admire this natural beauty.
Russell Falls, Tasmania
1 hr north west of Hobart
Set in the heart of Mt Field National Park, this is one of Tassie's most iconic waterfalls. Walk among the giant gum trees to see the park's star attraction, the multi-tiered cascading falls. If you're adventurous enough to stick it out until nightfall, you may see glow worms nearby.