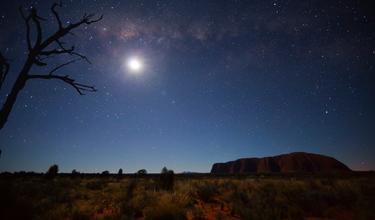 Aussie adventures are waiting for you in every corner of every state. But we've narrowed the list down for you so you can tick off the top five list.
Just hire a car from your nearest capital city with DriveNow and then let the Aussie adventures begin! Here are our five top experiences.
Dine under the stars in the Red Centre
It's a dinner unlike no other, which makes this one perfect for the romantics. Visit Ayers Rock Resort on a clear night to admire the stars. The experience begins with sunset drinks on a viewing platform that overlooks Uluru's landscape. As night falls, you can enjoy a delicious buffet or four-course dinner while admiring constellations and the stories of the night sky.
Hot air ballooning in Melbourne
At any time of year, you can go hot air ballooning for sunrise in Melbourne. It's an early start but one that's rewarded with stunning views over Melbourne city or the rolling green hills of the Yarra Valley. Experience the thrill of watching the city wake up, as the clouds float past and the landscape changes.
Choose a river cruise through the Swan Valley
Take a gourmet food and wine cruise to one of Australia's best regions for fresh produce and wine! Depart from Perth and cruise to the upper areas of the Swan Valley. While you're exploring this beautiful part of the world you can take up a behind the scenes tour of a winery, where you learn how some top drops are created. There are live entertainment, great food and even better company!
Outback Floatplane Adventure
The Ultimate Tour gives you the very best of the Northern Territory and surrounds in an action-packed one-day adventure. You'll begin with a floatplane flight to the famous Sweets Lagoon, where you can admire the area's wildlife. Enjoy a relaxing billabong cruise and a BBQ lunch before an airboat fast lap. As an extra add-on, you can purchase a helicopter flight over the beautiful Litchfield National Park.
BRIANNA PIAZZA