December 7th, 2009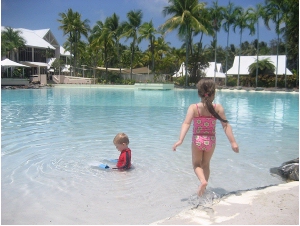 My family and I recently went to Port Douglas to relax before the mayhem of the festive season.  Taking kids out of school for a family holiday is a hot topic at the moment.  But as our eldest child was in Prep this year we thought a week away (armed with her writing journal and a few reader books), would actually enhance her education.
Now most people think that Far North Queensland is not the place to be in late spring, but let me tell you – the weather was perfect, we had the place to ourselves and we enjoyed the low (out of school holiday) season prices!
We actually booked our travel arrangements 3 months earlier and got great deals on flights, accommodation and car hire.  Car hire was booked via DriveNow.com.au with Thrifty.
We started our journey from home at 5.00am and set off to catch our Jetstar flight from Melbourne to Cairns.  Having bundled Zac and Tasha  asleep into the car Toni and I made it in plenty of time for the flight.  Jetstar then proceeded to delay the flight by an hour (reasons unknown) but made up the time on the flight.  When we arrived into Cairns, we headed for the Thrifty Car Rental counter to collect our car.   Not only was the car ready with baby seat as prebooked, we were upgraded to an Outlander!
Cairns Airport is under renovations and it was a long walk from the arrivals area to the baggage hall and then back to the Cairns Airport Parking area, where our car was ready to go.
We jumped into the car and headed north to Port Douglas.  The drive up is a beauty and even the kids were impressed.  Beaches on one side, rainforest and mountains on the other.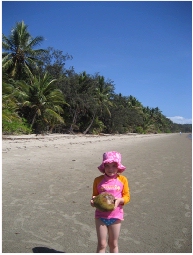 We were at our accommodation, the Sheraton Mirage Resort, in about 60 minutes, unpacked our bags for the next 8 nights and hit the pool.
As mentioned earlier, the weather was perfect, low 30's every day.  Some rain at night, but nothing that adversely effected the holiday.
Port Douglas is a great spot to relax, walk or run on the beach, dine (recommend Salsa for the adults and Mango Jam for the kids), swim (pools only at this time of year as it is  jellyfish "stinger" season), or do all the sight seeing activities the region has to offer.
We did all of that, but mainly relaxed by the pool and ate and drank!
The highlights of the activities were :
Great Barrier Reef cruise with Quick Silver –  it's a bit special to see your 6 year old daughter snorkelling and discovering something that may be dead in 20 years.  Natahsa loved it and it was hard to get her out of the water at the end of the day.  We even made Zac put a mask on and put his head in, just so he can say he has done it. He loved the semi submersible trip that took you right up close to the reef and fish – something we should all see before it disappears.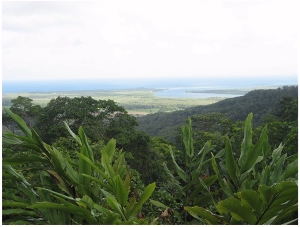 Walking in the Daintree Rainforest was beautiful, as was cruising on the Daintree river looking for crocodiles that were happy to be hiding in the river and not making themselves easy to find.
Kuranda markets and the Skyrail, just out of Cairns is another sample of the rainforest and a great way to spend the afternoon.
Golf at the Mirage Resort was lots of fun.  I must say the course is not up to its former glory as they have been affected by the GFC and a drought since May this year.  I hope they are able to recover on both fronts as the layout and location is superb!
After 9 days, it was sad to leave Port Douglas and head back to Cairns airport.  We dropped the rental car off at Cairns Airport, with a key drop conveniently located between the car park and terminal, headed to our flight, which was on time, and checked into "Hotel Reality" – home.
RussellM