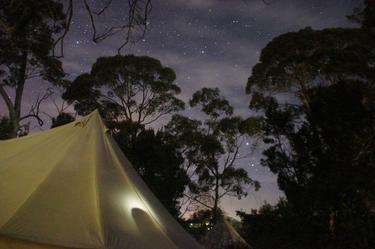 A lot of people decide to visit Australia's most southern state in summer. But if you love to avoid the crowds, then an autumn Tassie trip is probably a better option for you. The hiking trails and attractions are less busy, not to mention the forests come alive with different shades of orange, red and gold. It's a magical sight.
You can easily find a bargain campervan hire deal from Hobart. Then let your autumn Tassie adventure begin with these five amazing sights.
Witness the 'Turning of the Fagus'
This is a unique experience that you'll only ever get during an autumn Tassie holiday. The native Deciduous Beech, which is better known as fagus, is only found in Tasmania. It's a two metre tree which thrives in inhospitable places and it dates back 35 million years. On the mountainsides of Cradle Mountain-Lake St Claire National Park you can watch the fagus turn into a kaleidoscope of green, yellow, red and orange.
Go glamping at Tamar (pictured)
Tasting exquisite wine, sleeping in a majestic safari tent with a luxurious queen size bed and Persian style carpet… does that sounds like camping to you? Well in the Tamar Valley, Wingtons Glamping takes you back in time to the 1930s, so you can enjoy camping in style. Indulge in the region's finest wine and produce and let the scenery take your breath away. With the forest surrounding you, the white sandy beaches and pristine Tamar waters only metres from your tent, you'll feel as if life can't get any better.
Admire Freycinet National Park
Enjoy less crowds as you explore one of the most popular regions of Tasmania. Wineglass Bay is beautiful at any time of year. Relax and take in the gorgeous scenery that surrounds you. Go kayaking in the bay or take a leisurely hike through the wilderness. Coles Bay is another stunning stretch of coastline which sits at the bottom of granite mountains. Everywhere you look you'll be spoiled for choice.
Get a taste for autumn in Hobart
Hobart is emerging as a vibrant city for food and culture. It seems as if there are always new and exciting restaurants, cafes and wine bars popping up in Tasmania's capital city. Enjoy European and Australian specialties at the Point Revolving Restaurant or indulge in superb meat dishes at Astor Grill. Venture up Mount Wellington to get cosy at Lost Freight at the Springs, which has a lovely atmosphere all year round.
Get excited for the Henty Dunes
Sand dunes tend to be one massive playground for kids and adults alike. The Henty Dunes on Tassie's wild West Coast are no exception. Jump on board a buggie and drive along the dunes for an adrenaline rush. You'll hear all about the history of this site and how the dunes were formed. It's also an incredible spot to spend sunset at the end of the day.
BRIANNA PIAZZA