February 27th, 2010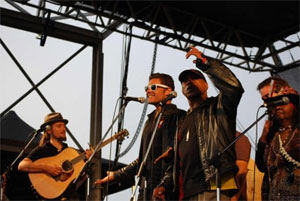 EVERYONE loves a music festival, whether you love blues, country, jazz, pop or rock. So snap up a campervan rental deal with DriveNow, hit the highway and prepare to dance, sing, eat and drink 'til your heart's content. While there are loads of big ones such as the Big Day Out, Good Vibrations and V Festival that do the rounds countrywide, don't forget the smaller ones that might just offer something a little more intimate and also give you the chance to look around. Try these for size …
1) Riverboats Jazz Food and Wine Festival. Every July this one attracts jazz and wine lovers in their droves from all corners of the country, so head down the Hume Highway in your campervan or hire car to this historic river port township set on the banks of the mighty Murray River for some smooth jazz, great food and wonderful nearby attractions. It all happens in late February.
2) Byron Bay Blues and Roots Festival. Any time of the year is a good time of the year to visit this beautiful coastal hotspot. Enjoy the best of both worlds whether it be the beach or the hinterland. This world renowned music festival attracts some of the biggest artists in the world. Held over five days every Easter, visit www.bluesfest.com.au
3) Chill Island. Head south from Melbourne and find a patch on charming Phillip Island, home of Australia's best known penguins and the Phillip Island motorsport circuit. Every January it comes alive to the sounds of easygoing, chilled music including artists covering such genres as folk, reggae, blues and pop.
4) Womadelaide. This one stands for World of Music Arts and Dance and simply must be experienced if you're ever cruising around South Australia. Thousands "bliss out" as they enjoy the sounds of the planet, street theatre, exhibitions and great food. Visit www.womadelaide.com.au
5) Tamworth Country Music Festival. No Aussie list of music festivals can be without this mighty country music fest when the greats of country music, and promising up and comers of all ages, hit the town for a fun time. Celebrations continue for 10 days every year from mid-January. Visit www.tamworthcountrymusic.com.au
AUSTIN BONHAM