Atlanta, Georgia, hosts the busiest airport in the U.S.  So, you are probably going to find yourself routed through it sometime on your travels.  Not only is it a perfect place to kick off a road trip to the American South, but it's also a long weekend/short break dream destination. Atlanta will end up being the favorite US city you never knew about.
Understanding Atlanta

Apart from having a really big airport, Atlanta has a few other things going on.  The capital of the Peach State has 3 million inhabitants and is the corporate headquarters to CNN, Coca-Cola, UPS, and Delta Air Lines to name just a few.
In 1864 during the Civil War, General Sherman captured Atlanta and when he left, burned it to the ground. From there on Atlanta has gone through many iterations, from becoming the hub of the American railway system to the birthplace of the aforementioned Coca- Cola and Delta, it is also the birthplace of Martin Luther King Jnr and Jimmy Carter Jnr. Atlanta hosted the 1996 Summer Olympics and has metamorphized into a sophisticated modern city that will keep your interest from its many different offerings (extremely short and basic history).
Winters can be quite cold so visit between March and October
Public Transport
Atlanta's Public Transport system can be a bit confusing with several differently owned systems required to reach a destination.  As a tourist, you have the benefit of just sticking with a MARTA train or the Streetcar system and that will get you to much of what you want to see and do. The rail from the airport is good.  If in doubt Uber.
Areas for Heritage and History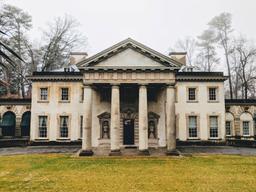 Buckhead – Atlanta History Center and Swan House – This is a logical place to start, but you need time, reserve half a day, it's huge!  Then go and hang out in the upmarket Buckhead Village, a little bit of Rodeo Drive in the south.
Sweet Auburn Avenue – Was a hub for African American entrepreneurs and businesses from the '50s/'60s, when black Americans were not allowed to own property on Peachtree Street.   It's also the heart of the southern civil rights movement which was pivotal to change in the whole country.
My recommendation for 'doing' the Avenue is to start at Woodruff Park and stroll from there, it's only about a mile but there is a lot of stops along the way.  First, stop is the Apex Museum where you learn about the history of the Avenue, from there everything will fall into place – make the following stops, some just to look at the buildings, others to enter – Royal Peacock Lounge,  Big Bethel AME Church, Municipal Markets (It's a little detour, cross Auburn Ave and down Jesse Hill Jr. Dr. for a block to be rewarded with coffee and treats), and then wind your way back up to John Wesley Dobbs Plaza and keep heading down to the SCLC National office, Wheat Street Baptist Church, Ebenezer Baptist Church and end your tour at The King Centre/Park and tomb of Martin Luther King Jr and his childhood home. From here hop on the Streetcar at the King Historic District stop and ride it back along the Avenue.  Take the Streetcar all the way to the Centennial Olympic Park stop and walk to the top of the park where you will find the National Center for Civil and Human Rights, it closes at 5 pm so make sure you leave enough time for an hour to 90 minutes here.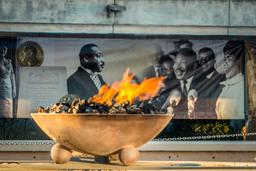 The Streetcar deserves a mention because it runs oneway on a circuit, it's only US$3 for a day pass so it's a really cheap and easy way to sightsee the area, I recommend you do the whole circuit.   You can finish at the Peachtree Centre for its extensive food court.
 ATL – Cruzer   Electric car tour (Max 5 people) with the added advantage of a guide, is also a great option, it only takes 90 mins and so reasonably priced.  Take the whole family for US$125 (or US$36pp). – also, heads up if you love a Segway Tour check out their other offerings.
Arts and Culture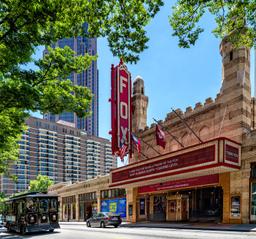 Midtown is an excellent place to stay and base yourself so you can both take in the areas offering and be able to just wander and hang.  The sumptuous food scene will keep you more than satisfied and the art and music well occupied.  The famous Fox Theatre, High Museum of Art will be easy to visit if you are staying in the area.  If you're staying elsewhere the MARTA Arts Centre and Midtown stations give you access to these attractions as well as the Botanical Gardens and Piedmont Park
Edgy and Avant-garde
EAV – East Atlanta Village.  Think live hip hop music, street art, multicultural cuisine and you have a good image of EAV. There is the Jimmy Carter Presidential Library and Museum that you should visit, but the rest of the time wander your way around the neighborhood and just enjoy the free spirit and go where the vibe takes you.
Sports
Atlanta is a marvelous place for sport, with easily accessible stadiums, and top teams.  Check the schedule for the sports below and order some tickets for your visit.
Baseball – Atlanta Braves – Season – March to October – Average ticket price $10-$20 each                                                                              Truist Park, 755 Battery Ave.                                                                                                                                                                                                    Get there – Cumberland Circular Shuttle (either blue or green route) to reach The Battery Atlanta & Truist Park.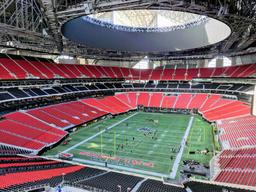 NFL – Atlanta Falcons – Season – September to February                                                                                                                                          Mercedes-Benz Stadium "The Benz" – 125 Ted Turner Dr.                                                                                                                                                Get there – MARTA Blue Line – Vine City or GWCC/Philips Arena/CNN Center stops 
Basketball – Atlanta Hawks – Season – October to April – Ticket prices vary from $20 – $120                                                                            State Farm Arena – 1 State Farm Dr.                                                                                                                                                                                       Get there – MARTA Blue Line GWCC/Philips Arena/CNN Center Stop
Shopping
Between Buckhead Village and Lennox Square, you will find all the high-end brands,  think Hermes, Cartier, Louis Vuitton, Prada, Dior, etc….
Peachtree Center – Mostly food
Underground Atlanta – I'm not much for shopping centers while on vacation, not that I think there is anything wrong with retail therapy anywhere, anytime, but in a place with so much character you need to find the therapy that reflects the city.  This is the spot, make sure you include a trip to this unique historic downtown 6 block resurrection of the railway viaducts.
You will have a ball in Atlanta, there is so much that hasn't been covered but three days will not allow you to do everything.  If you need more suggestions,  or just want more expert advice visit the Atlanta Convention and Visitors Bureau site.
All photos credit: Atlanta Convention and Visitors Bureau