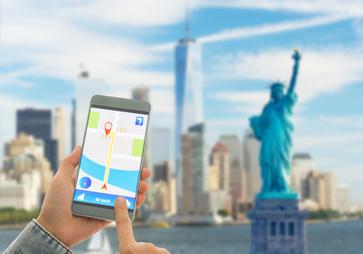 Campervanning adventures in the modern world is a whole lot different to yesteryear, especially with a gazillion digital tools to help you on your way. Looking for some little digital helpers for your next roadtrip? Apps for your mobile phone are the most convenient way to get access to all the information you need.
It doesn't matter where in the world you are travelling, you can have all these tools at your fingertips. Once you collect that campervan rental just make sure you've downloaded at least one of these apps and you'll be set for some digi assistance on the road.
Finding a carpark: INRIX ParkMe
It's one of the worst parts of road travel, especially when driving to inner city areas or small towns with narrow streets and limited parking. One of the biggest complaints for drivers is you can easily waste half an hour circling busy areas to find a carpark. That's about to get so much easier with this free app! Using your phones location sensors, you can easily locate your nearest and cheapest parking options. It even gives you the option to reserve and pay for a parking space on your phone. Easy!
Cheap Fuel finder: GasBuddy
More than 60 million people worldwide have downloaded GasBuddy, making it the world's largest community-based fuel app. It relies on users quickly sharing information about how far away petrol stations are and where to find the cheapest fuel prices. GasBuddy offers incentives, like prize draws, to encourage users to share timely information.
Searching for snacks: iExit
This free app will tell you where to find an ATM, bathrooms and amenities like WiFi. It even shows you where you can rest and where to grab a bite to eat. It's all the stuff you need to know, but often have trouble finding on a long road trip. One of the great advantages of this app is it shows handy pictographs of specific businesses and amenities at upcoming road exits.
Protecting yourself in the event of a road accident: DailyRoads Voyager
Turn your Android phone into a dashcam on a budget! DailyRoads Voyager lets you record video and photos of your trip in the car in case you find yourself in an unfortunate situation on the roads. The app includes time-stamping and geotagging, plus speed and elevation. You have the option to change the video quality and change storage sittings so your internal memory never fills up. Get the premium version to remove advertising.
Planning your holiday: RoadTrippers
With RoadTrippers, you'll never forget to stop at an attraction ever again! Find everything from hotels and restaurants to attractions like scenic lookouts, roadside highlights and national parks. This free app is particularly handy because it allows you to plan out your trip on your phone. It has a web portal, where you can save locations and stops, so that it's worked into your trip plan. You can even sync across several devices so everybody can reference it.
Avoiding traffic: Wayz
This traffic map and navigation app will make your life on the road so much easier. You can suss out traffic conditions before you end up in a standstill. It also features reports on road hazards, traffic accidents and will tell you where to slow down because of speed cameras in the area. All the information is based on real-time information from other Waze users.
Compiling a soundtrack – Spotify
Spotify is the way to go if good music on a roadtrip is important to you. This app lets you access a variety of music and create playlists on your phone. There's the free version, but if you upgrade to $10 a month then you won't have to deal with ads. It'll also let you download music while connected to WiFi, so when you're offline and in remote areas you can still access your tunes.