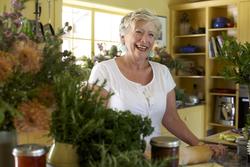 Spring is heavenly in South Australia's Barossa Valley. The Barossa is only 60km northeast of Adelaide and it's one of Australia's oldest wine-producing regions. Not to mention the romantic rolling green hills and range of interesting activities.
Here are five great things to do in the Barossa Valley this spring.
Maggie Beer's Farm Shop
Located on the outskirts of Nuriootpa, Maggie Beer's Farm Shop is well worth a visit. Wander around the Farm Shop, tasting all of Maggie Beer's delicious products. Whether its fresh fruit from the orchard, wine, ice cream or a delicious coffee and cake, Maggie Beer's wonderful recipes melt mouths and hearts. If you want to learn how to cook some of these amazing dishes, then you can attend one of the daily cooking demonstrations.
Cycling
The Barossa has many cycling tracks where you'll pass incredible scenery along the way. A popular trail for travellers is the 27km Jack Bobridge track. The cycling track links Tanunda and Gawler, while offering beautiful views of the North Para River. You'll cycle past rolling vineyards, while having the opportunity to stop at wineries for a delicious lunch and a glass of wine.
Chateau Tanunda
Chateau Tanunda, which is located in the heart of Tanunda and was established in 1890, is said to be one of Australia's most stunning winery estates. With its magnificent buildings, impeccable gardens and range of wines at the heritage listed Cellar Door, there won't be a single minute where you're not enjoying your time at Tanunda.
Historic walk of Bethany
The beautiful village of Bethany was the first to be established in the Barossa Valley. A group of families from Europe settled there in 1842, and it has since become famous for winemaking. Stop over at Bethany Wines – a beautiful stone winery, which offers magnificent views of the valley. You can also explore Pioneer Cemetery, which will offer you an insight into the lives of the town's early settlers.
Hot Air Ballooning
If the Barossa Valley's scenery amazes you, then just wait until you see the world-famous wine region from the air! A peaceful hot air balloon rise over the valley for sunrise is the perfect way to start your day, as you enjoy 360 decree views that span from the Barossa ranges to the ocean. After your flight, you have the option of a gourmet breakfast served with a glass of wine.
BRIANNA PIAZZA