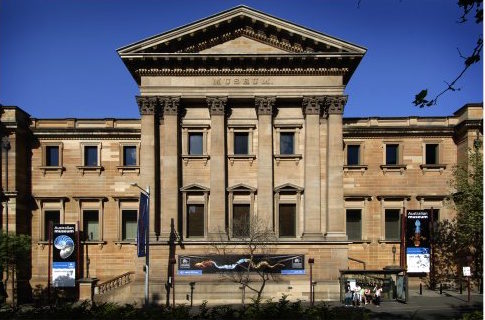 Museums are places where curious minds can explore and learn about history. Sydney has so many wonderful museums with interactive and interesting displays. Here are five of the best museums that you must see in Sydney.
Australian Museum
The Australian Museum (pictured) was established in 1827, which makes it Australia's first museum. Its fantastic displays feature extensive collections of natural science and cultural artefacts. Take a closer look at Australia's unique animals or hear in-depth stories about the plight of Indigenous Australians. You can also delve deep into history of the dinosaurs to explore how they lived and died.
Sydney Jewish Museum
The permanent exhibitions at the Sydney Jewish Museum include Jewish culture and Jewish involvement in the Australian military. Visitors have the opportunity to examine original documents and newspapers, life-size sculptures and interact with multimedia displays. One of the temporary exhibitions on display is Signs of Life – Letters of the Holocaust. It showcases about 1000 Nazi and postwar era letters and postcards, telling the touching stories of families who were torn apart during the Holocaust.
Macleay Museum
This natural history museum is located on the University of Sydney's main campus. It holds the oldest natural history collection in Australia. It features Aboriginal, Torres Strait and Pacific Islanders' cultural artefacts. You'll also find collections of insects, scientific instruments and historic photographs. Most of the items on display were donated by Alexander Macleay and his family.
Sydney Tramway Museum
The Sydney Tramway Museum is the country's oldest tramway museum – it's also the largest in the southern hemisphere. It features an extensive collection of trams from cities around Australia. There are also restored trams from overseas. A highlight for many visitors is a tram ride through Sydney on one of the museum's tram lines.
Australian National Maritime Museum
The museum focuses on James Cook's discovery of Australia, travel by ocean to Australia, naval defence, the Aborigine's connection to water and how the country has used the ocean as a resource. It's also home to Australian-built replicas of historical shops, such as James Cook's HMB Endeavour. This beautiful ship treats visitors to an understanding of life aboard Captain Cook's 1768-71 world voyage. It's also possible to take a trip on the Endeavour as it sails along the Australian coast.
BRIANNA PIAZZA