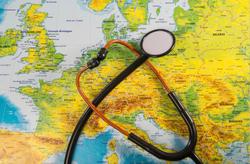 There are so many exotic travel destinations around the world, each with their own national treasures. You can easily access many of them at your own pace with a bargain car rental. But it's easy to forget the dangers, particularly travel diseases, that will no doubt leave you miserable. Some can really put a damper on your holiday.

The good news is most are preventable and just require a bit of extra caution.

Here's how to avoid five horrible travel diseases when your on the road exploring the world.
Malaria
This nasty disease is found all over the developing world, from Africa to Asia and even South America. Malaria, which spreads by mosquito bites, kills more than 200 million people worldwide every year. This is why you can never be too careful when travelling. Watch out for flu-like symptoms, fever and chills. Protect yourself by taking anti-malarial pills and wearing mosquito repellent. They say a Gin & Tonic is a beaut idea to keep the mozzies away, too. If they don't, at least you'll have a good time.
Transient Global Amnesia
This may sound like a plot from a Hangover movie, but believe it or not it's possible to wake up overseas with no memory of how you got there. In some cases people don't even know who they are, and it happens to an estimated 10 people out of every 100,000. What causes Transient Global Amnesia is a mystery to scientists, but it's more common among people who have migraines and people who are susceptible to heart disease.
It may also be related to the drug triazolam, which travellers use to minimise jet lag.
The candiru fish
Piranhas are the least of your worries in the Amazon Basin! Brace yourselves, fellas, as this one could well be every man's worst nightmare. Any man who urinates in the water runs the risk of this horrible creature swimming into the male urethra where it will eat away the soft tissue. This tiny creature has really and truly earned its reputation as the "vampire" fish. If you're visiting the Amazon, then you may just not want to take the risk by staying on dry land.
Dengue fever
This viral disease is spread by the Aedes Aegypti mosquito, and it's found in tropical areas. Common symptoms include the sudden onset of fever or extreme tiredness, an intense headache, muscle and joint pain, loss of appetite and vomiting. Dengue symptoms can range from mild to severe, and in some cases even cause death. It's important to prevent dengue in the first place by covering your skin or wearing mosquito repellent.
African trypanosomiasis
People who are travelling to sub-Saharan Africa and are spending a lot of time at game parks are at increased risk of African trypanosomiasis. Also known as African sleeping sickness, it's a parasitic disease spread by the tsetse fly. If you catch this then you can expect a high fever, fatigue, head and muscle aches. Without treatment, the disease can cause death. However, there's no vaccine or medicine to prevent it – you can help by wearing DEET products and neutral colours (as the tsetse fly is attracted to both bright and dark colours).