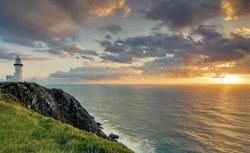 A beautiful beachside town famous with backpackers for its laid-back vibe and enviable year-round weather, Byron is also a crackerjack holiday spot for everyone from families to grey nomads and friends on the loose. At mainland Australia's furthest point, visitors do more than admire the Cape Byron Lighthouse that sits atop the headland, dividing the uncrowded beaches stretching miles north and south of the township.
No.1 Whale Watching
The perfect place for whale watching, Byron Bay is arguably unmatched as the east coast's premier spot to sight a pod of humpbacks. While you can join one of the intimate tours, the likelihood of catching a glimpse of them from the headland on their annual migration from May to November is high. There can't be many better places to wait for the whales than in the breathtaking surrounds of the point.
No.2 Byron Bay Brewery
For those who love to finish of a long day's exploration with a cold one, there is plenty of choice at the local brewery. With six beers brewed on site, why not grab a tasting board and sample them all? The food is sure to satisfy the hunger worked up throughout the day and if you are lucky enough to be here on a lazy Tuesday or Thursday arvo, a brewery tour will take you behind the scenes, explaining what goes into the beer that you are about to sample. More www.byronbaybrewery.com.au
No. 3 Cape Byron Walking Track
For incredible views of the golden sandy beaches, glistening ocean and tropical vegetation that make Byron Bay the ultimate escape, the Cape Byron Walking Track is sure to mellow even the most stressed of visitors. Why else would you come to Byron, if not to unwind and take it all in? Setting off from the Captain Cook Picnic Area, the two hour walk winds through Palm Valley, past Watego's Beach and to the heritage-listed lighthouse and Keeper's Cottages, which have been converted into rustic accommodation and which boast stunning coastal views. More www.nationalparks.nsw.gov.au/things-to-do/Walking-tracks/Cape-Byron-walking-track
No 4. Circus Arts Byron Bay
For those who need something a little more interactive than walking to keep them entertained, Circus Arts is a kid's play space where littlies can get physical and learn the basics of flying trapeze, indoor climbing, yoga and circus. Circus Arts is open year-round but hosts dedicated school holiday program events.  More www.circusarts.com.au
No 5. Main Beach
We know what you're thinking. The beach? Hardly rare in Australia, no doubt. But what makes this one so special? It's quite possible that this is the most family-friendly beach in the country. For starters, Main Beach is sheltered from wind by the headland and patrolled from October to Easter by surf lifesavers. Parents' lives are made easier with a baby change room in the surf club and a playground nestled in the shade of the soaring pine trees, as well as plenty of food and drink options nearby. For a bit of adventure with the older ones, a popular activity is to snorkel out from to the Tassie II, a ship off the coast. If you're lucky you may even spot some passing whales and dolphins from the shoreline, proving that this is NOT just any beach.
SCOTT PODMORE & RUTH BIRCH