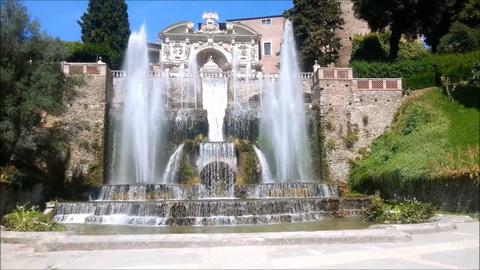 Millions of tourists travel to Rome every year to indulge in Italian food, art, history and architecture with Rome day tours. Most tourists spend only a few days in Rome, when in reality there's so much to explore that to do it properly would take months.
Next time you visit Rome hire a car so you can drive to some of these destinations. Within the comfort of your own vehicle, embark on one of these Rome day tours.
Lose yourself in the Tivoli gardens
The Tivoli gardens are just outside of Rome. Explore the historic town of Tivoli and the UNESCO World Heritage-listed Villa d'Este. The 16th Century villa has amazing gardens, not to mention the incredible Bernini-designed fountains. You can also visit the nearby Hadrian's Villa, another UNESCO site. It was the luxurious 2nd century holiday home of Emperor Hadrian, full of temples, theatres and thermal baths.
Walking tour of Ancient Rome
Explore the ancient world with a walking tour of the Old City. Take a guided tour through the streets of the Roman Forum, Palatine Hill and the iconic Colosseum. Learn about the archaeological wonders of Ancient Rome, which was once home to a million people. A guide can explain the stories of the past, providing fascinating insight into an advanced ancient civilisation.
Spend a day at the Vatican
This is one of the best Rome day tours for art lovers. Visit famous exhibits at the Vatican Museums, including the Raphael Rooms, where you'll see ancient sculptures, paintings and even tapestries. The Sistine Chapel houses the great Michelangelo's masterpiece. You can also get into St Peter's Basilica nearby to see his amazing sculpture, La Pietà. Take a guided tour or spend the day browsing the artwork as slowly as you like with an audio guide.
Explore underground Rome
Step underneath Rome's cobblestone streets to explore the underworld you never thought existed. Underneath the city are three levels of the Basilica of San Clemente. This church features stunning mosaics and frescoes that date back to the 4th century. It's also worth visiting the Catacombs of Santa Domitilla, where you'll uncover 17 kilometres of tunnels with the skeletons of 150,000 monks, which create fascinating but spooky artwork.
Eat and drink your way through Rome
Italy is most famous for its delicious food and wine! Sometimes navigating the restaurant/cafe scene in Italy can be difficult to navigate if you don't know the language and stick to tourist menus in the centre of town. Walk a few streets away from the main road to discover traditional homemade meals the real Italian way. Rome is particularly known for its pasta, bruschetta and Frascati wine. Be sure to try as much as you can!
BRIANNA PIAZZA