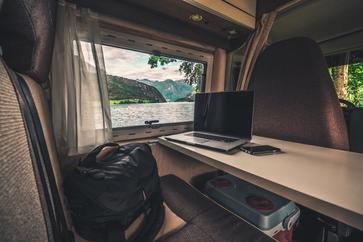 Whether you're roadtripping in Tasmania or at the Top End, way out Wests or on the east coast, Australian campervanners will always have a better holiday experience with a few handy resources at hand. That includes resourceful websites or apps. But you've gotta know where to find them.

Yes, sometimes the thrill of adventure can include taking a motorhome into foreign ground without knowledge of what's ahead of you. But why wouldn't you want to know how to quickly check the cheapest fuel available? Or what some of the experts say is "must do" in a city you've never been before? Or cashing in on super cheap holiday activities via a particular site or app?

Whether you own your own campervan or have a Campervan rental for a couple of weeks, save these onto your favourites list to help make that motorhome adventure even more special.

Petrol Spy Australia
www.petrolspy.com.au
Pretty obvious, this one. A tool (available in android or ios as an app) that keeps an eye on petrol prices using geo-tagging technology. An Australian creation with the main cities in mind including Melbourne, Sydney, Brisbane, Darwin, Hobart, Canberra, Adelaide, Perth and Brisbane. Better still, you can win a $25 petrol card every day.
Cudo
www.cudo.com.au
Subscribe and watch the deals flow in – providing you don't mind reasonably spammy updates of hot deals. This can be customised to wherever you are in the top right corner of the site pulldown menu: daily deals in your city of choice from Sydney, Melbourne, Gold Coast, Brisbane, Perth, Canberra and Adelaide. Everything from a blissful 70 minute massage for $49 after long day on the road, to crazy dining deals, a cheap round of golf or a dolphin cruise.
Drivenow (of course!)
www.drivenow.com.au
We wouldn't be silly enough to leave out the best of them all, the Drivenow car hire and campervan rental booking site that beats them all for value. While it's ideal for Australia, keep in mind if you're planning a motorhome rental overseas the Drivenow "machine" is the perfect choice. Keep an eye on the amazing relocation deals for those looking to hit the road from one destination to another for crazy prices such as $5 a day including fuel. Shameless plug: of course, our informative blogs are great for awesome tips and destination details, too, including best road trip options, itineraries and more.
Red Balloon
www.redballoon.com.au
Holiday experiences galore here, and the minute you subscribe you get $10 off your first purchase. From glamping getwaway deals to dining specials, V8 Supercar experiences and hot air ballooning, there are some great options here wherever you go in Australia.
Snap Fitness
www.snapfitness.com.au
Health, fitness and wellness is exploding in Australia (the world, in fact), and as much as I could have popped a handful of great 24/7 fitness centre chains in here, I'm going with the one I know and love. Snap Fitness centres can be found mainly around the coastline of Australia, although there are plenty available inland too, and are clean, consistent with machines, group classes and friendly staff (the ones I've been to in Melbourne, Sydney, Echuca and Noosa, anyway). So have fun on the road, but keep the health and fitness levels up with a membership, usually around the $50 mark a month, cheaper for joint or group memberships.
SCOTT PODMORE