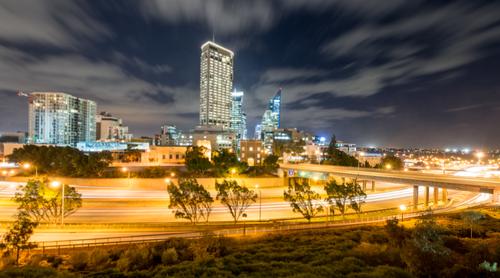 Perth is Australia's sunniest capital. It's also one of the world's most liveable cities, largely because there's so much to do. Perth attractions include pristine beaches, exciting bushwalks and a vibrant food and wine scene,. '
These Perth attractions make the west coast such an appealing holiday option for families in caravans. Pick up your keys after securing a cheap Perth caravan deal with DriveNow and visit these places.
Perth City
Perth (pictured) is a great city for dining and for exploring beaches. It's also a perfect spot to base yourself if you want to explore Perth attractions. One of the best places to admire in the hills just east of Perth is Lesmurdie Falls. There's a two kilometre walk circuit that takes you to the base of the falls. You can also take a short ferry ride to Rottnest Island. Spend the day snorkelling with colourful fish and surfing. Or just relax on the beach.
Where to stay? We recommend Karrinyup Waters Resort.
York
This town, about an hour and a half east of Perth, oozes historical charm. Set in the heart of the picturesque Avon Valley, it's like you've stepped back in time to the early colonial days. Walk past beautiful Victorian and Federation-style early buildings along lovely streets. Even just go for a drive and get lost in the valley.
Where to stay? We recommend York Caravan Park and Camping Grounds
Kalamunda
Travel about half an hour from Perth, where you can explore Kalamunda. It's famously known as the beginning of the Bibbulmun Track. People don't realise that you don't actually have to hike the full 100km trek to enjoy the trail's beauty. You can actually stop in at certain parts of the track like Mount Cooke and take in the views.
Where to stay? We recommend Banksia Tourist Park
Margaret River
This small town, just south of Perth, is known for its boutique wineries and breweries. Not just that, but you also have incredible surf beaches, limestone caves to explore and short but picturesque hikes. Margaret River is also a great place to base yourself if you want to go whale watching. June to November is the best time to see these magnificent creatures make their annual migration.
Where to stay? We recommend BIG4 Taunton Farm Margaret River
Swan Valley
The Swan Valley is one of those incredible places where you're surrounded by postcard perfect views. It's almost too good to be true! Rolling green hills and fantastic vineyards away. Yet it's only about half an hour from downtown Perth! Take a tour of a distillery and sample fine wine and cheeses.
Where to stay? We recommend Swan Valley Tourist Park
BRIANNA PIAZZA