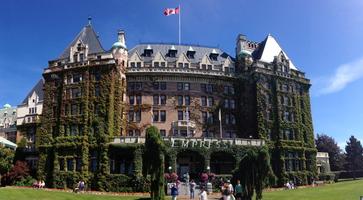 Planning a trip to Canada? Then Victoria, the stunning capital of British Columbia, must be at the top of your list! Victoria sits on the southern end of Vancouver Island and its residents boast lush parkland and gardens and stunning Victorian architecture – a sign of the city's British colonial past.
Hire a car from Canada's Victoria Airport when you first arrive in British Columbia. This will give you the freedom to explore the city's history, while also giving you easy access to some of Canada's most stunning natural attractions outside the city.
Here are five hotels that we recommend staying in for your trip to the capital of British Columbia.
Fairmont Empress Hotel
Many prestigious awards recognise the Fairmont Empress Hotel as an outstanding venue. It is considered among the Top 21 Hotels in the World by National Geographic's Traveler magazine. The hotel is in prime position and overlooks the scenic Inner Harbour. In 2017, the hotel completed a $60 million restoration, which has given this historic hotel a taste of modern luxury. There are spa treatments and on-site restaurants for your convenience.
Abigail's Hotel
Enjoy the best of both worlds at Abigail's Hotel, which combines historic charm and modern luxury. The 1930's Tudor mansion is just three blocks from Victoria's Inner Harbour and is within walking distance of many major downtown attractions and restaurants. Enjoy a gourmet breakfast each morning, and free Wi-Fi access
Heathergate Cottage and Suites
Sit back and relax at the romantic Heathergate Cottage and Suites with its comfortable furnishings. The bed and breakfast is set in the colourful James Bay neighbourhood , which is close to restaurants and downtown Victoria. Heathergate Cottage and Suites consistently ranks among the top rating accommodations for couples. You also get on-site parking for free.
Beaconsfield Bed and Breakfast
Expect impeccable service at Beaconsfield Bed and Breakfast. Each luxury room is individually decorated. Rooms feature stained glass windows and English antiques. Not only do you receive a delicious meal and afternoon tea, coffee and cookies, but you also have access to an unbelievable book collection! This is a great spot for people who like to explore the city by day, but cosy up by the fireplace with a book in the evenings.
Pendray Inn and Tea House
Formerly knwon as the Gatsby Mansion, the elegant Pendray Inn and Teahouse is a special gem. When you walk through the doors you instantly get the feeling that the owners dearly love this home. The Inn opened in the late 19th Century and showcases beautiful woodwork and crystal chandeliers. Wake up to breakfast with a view of the gardens. You can't leave without enjoying afternoon tea at the Tea House!
BRIANNA PIAZZA