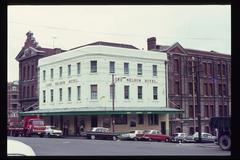 New South Wales is home to so many pubs that you'll probably never get the chance to visit them all. Add these five historic New South Wales pubs to your bucket list of great old pubs to visit for an awesome night out with your mates.
The Lord Nelson, Sydney
Established in 1841, The Lord Nelson is one of the country's oldest brewery pubs. This is the place to go for decent ale. Choose from an incredible selection which is brewed on premises, including several 100 percent natural award winning Mainstay ales.
The Newport Arms, Sydney
The Newport Arms (established 1880) is one of Sydney's iconic pubs, which consistently ranks among some of the best pubs in Australia. International visitors have this outdoor beer garden and its stunning ocean views at the top of their to-do list in Sydney.
Jack Duggans Irish Pub, Bathurst
The Irish know how to drink, and Jack Duggans Irish Pub's numerous awards for excellence over the years prove they know how to make sure Aussie patrons have a good time too! The pub is famous for warmly welcoming visitors, so much so that people will detour during a long road trip just to enjoy one night at the pub.
Woolwich Pier, Sydney
This awesome harbourside pub was crowned the best hotel for dining, according to the Pub Food Guide 2014 awards. It's diverse menu means you can be served high tea during the day, or a classic-style pub burger and a refreshing beer or whiskey at night.
The Scarborough Hotel, Wollongong
The internationally renown Scarborough has been going since 1886, and its pet-friendly beer garden and ideal location attract people from all over. The Scarborough sits on the top of a cliff, treating guests to amazing views of Illawarra's coastline. The perfect place for a delicious burger, pasta, steak or fresh seafood on a sunny afternoon.
BRIANNA PIAZZA