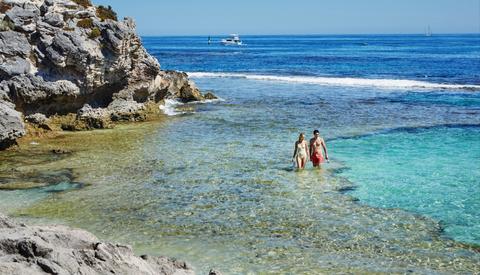 Spend your summer days lazing away on an island in the sun. Did you know there are more than 8,000 Australian islands? They all have something to offer, whether it's adventurous hikes, scenic lookout points, great diving spots or gorgeous beaches.
Check out DriveNow's website for a bargain car hire deal from your nearest capital city this summer. It's the easiest way to hit the coast to visit some of these incredible Australian islands.
Fitzroy Island, Queensland
Imagine gorgeous blue water, white sand in a lush rainforest setting. Fitzroy Island is home to what's regarded as one of Australia's best beaches, Nudey Beach. Snorkel with turtles and spend a lazy day in the sun, admiring the stunning mountain peaks on the mainland near Cairns. You could also spend a couple of hours hiking to the lighthouse and island summit. Good news is it's just a 45-minute ferry ride from Cairns.
Tiwi Islands, Northern Territory
Venture 80 km north of Darwin where the Arafura Sea meets the Timor Sea. The Tiwi Islands aren't only naturally stunning, but the so-called 'Land of Smiles' also an incredible showcase of Indigenous art and culture. You'll want to spend a few days here admiring art such as ironwood carvings and ochre paintings on canvas and bark. Some tours also offer the opportunity to create your own art.
Rottnest Island, Western Australia (above)
This is where all the Perth locals go to hangout on the weekend. This protected nature reserve is just offshore from Perth and is home to white-sand beaches and secluded coves. If surfing is your jam then checkout Strickland Bay, which is known for its surf breaks. Rottnest Island is also home to the quokka, which is a cute, small marsupial that looks like a wallaby.
Phillip Island, Victoria
Phillip Island is another island destination that seems to offer everything. It boasts spectacular surf beaches, trendy cafes and is famous for its world-class motorcycle and car racing events. Nature lovers will adore watching the much-loved little penguins coming ashore at sunset for the Penguin Parade at sunset. Phillip Island is just a two-hour drive from Melbourne, which makes it an ideal day trip destination.
Kangaroo Island, South Australia
Catch a ferry to Kangaroo Island and you'll have the freedom to easily explore Australia's third-largest island by road. You can't underestimate Kangaroo Island's rugged beauty, including pristine beaches. It's home to amazing the amazing Remarkable Rocks formations and native wildlife colonies of sea lions and koalas. Without a doubt, this is one of the most stunning Australian islands you'll ever visit.