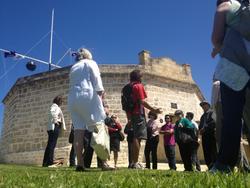 Perth is one of Australia's most laid-back capital cities, but best of all a charming countryside escape is just a short drive away.
Here are five amazing things to do within two hours of Perth.
Rottnest Island
This beautiful island is located just 19km off the coast of Perth. There's stunning scenery, an array of marine life and pristine, sandy beaches. It's perfect for a day trip from Perth, with several activities. Favourites include snorkeling or swimming at one of the island's 80 beaches or bays. At Little Salmon Bay and Parker Point, you'll discover more than 135 species of colourful, tropical fish and 20 species of coral. Just beyond the coral are a dozen shipwrecks waiting to be explored.
Swan Valley
Swan Valley, situated only 25 minutes from Perth's CBD, is Western Australia's oldest wine growing region. It's ideal for wine and food enthusiasts. In this scenic part of the state, you'll come across world-class wineries, cafes, restaurants, breweries and distilleries.  You can take a tour and focus on the highlights or explore them individually.
Fremantle (pictured)

Fremantle is famous for its old-fashioned charm. The port city is a vibrant tourist precinct, located about 20 minutes from Perth's CBD. It has several beautiful colonial buildings, which date back to the 1830s. One of the best ways to see this magnificent city is to simply walk through it. Take a guided tour, or look up self-guided walks on the Visit Fremantle website. Here, you'll find several walks to choose from, including the award winning Hotels and Breweries Walk, which takes you through the city's historic west end. 
York
York's pretty rolling hills are located less than an hour and a half east of Perth, in the Avon Valley. Few Western Australian towns hold the 'Historic Town' status, with York being the first inland settlement for Western Australia's colonists. To this day, it retains its charm with its Victorian-era and Federation style churches, tea rooms and restaurants. Visit the area for a burst of history, arts and crafts, and outdoor activities, such as horse riding.
Bibbulmun Track Day Walk 
This is one part of the eight day walk on the famous Bubbulmun Track, which stretches 100 km from Kalamunda to the historic seaside city of Albany. Begin your day walk about an hour and half's drive south of Perth at Sullivan Rock. The 19 km return walk leads you to Mount Cooke's summit, where epic views await. It's an enjoyable walk, with April to mid-October being the best time to walk the track.
BRIANNA PIAZZA