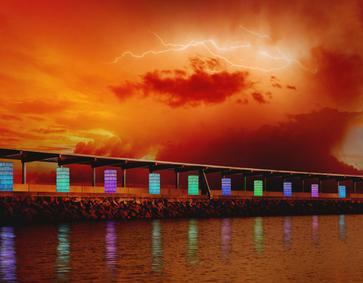 Is there a better time to hit the road and explore some wonderful events in Darwin and surrounds in the Northern Territory? The NT Tourism team certainly thinks not, as a range of awesome adventures are guaranteed as of next month through to the end of the year in Darwin and surrounds.
From the launch of Bruce Munro's hotly anticipated Tropical Light exhibition to the rich Aboriginal traditions at Mahbilil Festival in Kakadu, the Northern Territory is teeming with events so grab your Darwin car rental deal and get set for some unforgettable moments.
GREAT NORTHERN DARWIN CUP CARNIVAL
Darwin, 6 July – 5 August (Darwin Cup Day – 5 August)
One of the biggest events on the Darwin social calendar has already kicked off, but it runs for the next month. The Great Northern Darwin Cup Carnival features eight days of top-quality racing, fashion and events, and the largest outdoor ball in the Southern Hemisphere. The Great Northern Darwin Cup Carnival is set to excite racing enthusiasts and social butterflies alike. The big one, Darwin Cup Day, is on August 5.
DARWIN FESTIVAL
Darwin, 8 – 25 August 2019
Opening with legendary music group Yothu Yindi, Darwin Festival is celebrating its 40th anniversary with the hottest music, theatre, visual art and dance acts over 18 sultry tropical nights in the Top End.
DARWIN ABORIGINAL ART FAIR (DAAF)
Darwin, 9 – 11 August 2019
Believed to be the biggest event of its kind in Australia, the Darwin Aboriginal Art Fair gives visitors a chance to ethically purchase Aboriginal art direct from more than 60 Aboriginal and Torres Strait Islander-owned and incorporated art centres, with more than 2,000 emerging and established artists represented.
ART AWARDS (NATSIAA)
Darwin, 10 August – 3 November (Awards and Opening Ceremony – 9 August)
The 36th Telstra NATSIAA showcases the very best Australian Indigenous art from around the country.
NATIONAL INDIGENOUS MUSIC AWARDS (NIMA)
Darwin, 10 August 2019
Showcasing the rich Indigenous musical talent from all corners of the country. The NIMAs are recognised as one of Australia's most prominent Indigenous music awards. Held annually under the stars at Darwin's historic Amphitheatre, audiences will be treated to performances by the likes of Jessica Mauboy and Dan Sultan.
MAYALI MULIL FESTIVAL
Kakadu, 6 – 8 September 2019
A three-day, culturally infused event, Mayali Mulil connects and celebrates the diversity of Aboriginal cultures whilst supporting and promoting local and regional Aboriginal enterprises. With concerts, cultural activities and workshops, food and drink stalls, this is classic Kakadu at its finest.
JABIRU MAHBILIL FESTIVAL
Kakadu, 7 – 8 September 2019
Mahbilil Festival (named after the cooling afternoon breeze) is an annual explosion of music, dance, bushfoods, art and workshops, celebrating Kakadu culture in the township of Jabiru.
DARWIN INTERNATIONAL FILM FESTIVAL
Darwin, 12 – 22 September 2019
The 10-day Darwin International Film Festival showcases the best of local, national and international film, including Aboriginal stories and film makers. Film buffs are invited to enjoy a movie under the stars at the Deckchair Cinema, or one of the many workshops and exhibitions.
KAKADU BIRD WEEK
Kakadu, 28 September – 5 October 2019
With more than a third of Australia's bird species calling Kakadu home, the UNESCO World Heritage-listed national park is a bird lover's paradise. Kakadu Bird Week offers nature enthusiasts community birdwatching walks, tours and presentations with researchers and the local Aboriginal people.
TROPICAL LIGHT BY BRUCE MUNRO
Darwin, 1 November 2019 – 30 April 2020
Internationally renowned artist Bruce Munro will open his largest-ever city exhibition, Tropical Light, in the Northern Territory's Top End in November. Arriving in time for Darwin's tropical summer season, the eight immersive illuminated sculptures will light a 2.5 km trail through Darwin's CBD, illuminating the city and Waterfront precincts.